Brendan Rodgers on Spurs Demolition: Post Match Interview and a Fistfull of Stats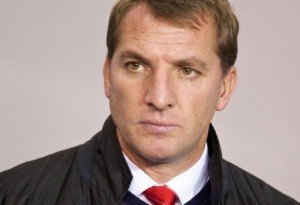 You'd do well to find a manager that's going to complain after seeing their side win by five goals. Coming off two displays where Brendan Rodgers watched his side score a combined nine goals, another rout certainly wasn't expected. Well, not for us anyways.
"I loved our arrogance today. The arrogance with the ball was very good – lots of angles, lots of people moving and interchanging positions" said the Northern Irishman. "We looked a real threat whilst retaining that solidity in defensive shapes. It was very good." That, of course, could be either the understatement of the year or a very excited man doing his absolute best to stay humble — we absolutely destroyed them.
Video by LFC Tiki Taka
Absolutely immense

Do stats really matter when you score 5 goals? It's hard to focus on anything else with that scoreline laid out like a prized pig, but the fact that we were so good today was what lead to the huge result in the first place.

First off, we hit the net 60% of the time; despite scoring 4 against West Ham United, we were absolutely pants in our accuracy with a demoralizing 29%. Yesterday was a welcome response for that and gives us a 19% bump compared to our usual 41%. Surprisingly, we created only 11 chances; that's a lot against Spurs of course, but it's actually a bit less than our average of 13.3 per match. Keep in mind that we created only one less chance yesterday than we did against Arsenal — a match that we were skunked in.

Brendan Rodgers can go to bed happy with Liverpool holding 51% of the possession yesterday and a lot of that comes to our consistent passing. We completed 85% of our 472 attempted passes, which is on par with our rate going into the match, but the 7 key passes we completed were a welcome touch.

Although the front line will take most of the plaudits, we were pretty good at the back as well with 49% of our duels won to keep us right in line with our previous results. There were a few shaky moments, though Tottenham failed to register a shot on target, with Liverpool winning 18/40 tackles, 7/15 take-ons and 11/22 headed duels. Though we usually play out from the back, we also successfully cleared the ball 68% of the time.

5 goals is good and all, and you can call me crazy, but seeing the boys keep their first clean sheet since September makes me almost as happy. Almost being the operative word.

Stats courtesy of Squawka
Unsurprisingly, we were the underdogs going into the this one and when we took the lead through Luis Suarez in the 18th minute, many expected Liverpool to lay back and defend the lead. They — which included me — were wrong. "We knew today we had to retain our focus; Tottenham have an outstanding squad here, with a lot of talented players. If you lose your concentration, you can concede" said Rodgers, but we didn't have to worry about giving a goal away; we were too busy scoring them at the other end.
Spurs, with their much lauded midfield, were unable to get their game going and a lot of that is owed to the trio of Jordan Henderson, Joe Allen and Lucas who outmuscled, outwitted and outplayed their flashier opposition. "Our concentration was good defensively – we had good shape to our team, the organisation was very good from the players when they pressed" enthused the boss. And with the backend sorted, Liverpool were able to shine on the front with stand-in captain Luis Suarez the catalyst for an immense attacking display.
The Uruguayan has been in unstoppable form this season and he pressed on scoring his 16th and 17th goals of the season while assisting, or at the very least being heavily involved, in the other three. After putting a very off-color summer behind him, Rodgers absolutely beamed almost to the point of embarrassment when talking about his star striker.
"I spoke to him a few days back, saying that I wanted him to lead this club, one of the biggest clubs in the world, and it's an honour for him to do it" said the Reds boss. "He has really enjoyed it and you saw his performance – he is always encouraging for young players, but he is relentless in his work."
This match meant a whole lot to both sides; it was a chance for Tottenham to get back in the mix, but it was completely different for the Reds. We've been up near the top since the word GO and routing Spurs on Sunday — on the road no less — was another corner turned, another obstacle navigated. We've got two tricky away fixtures right on the horizon, but if we needed an indication that we're ready, that surely was it.
–Steven
You never struggle for words after displays like that; what do you think? Are we well and truly on our way? Expectations still need to stay in check, but is it time to start trumpeting our chances? Have a go in the comments or let us know on Facebook or Twitter.