Captain Suarez Hails Team Performance in Tottenham Rout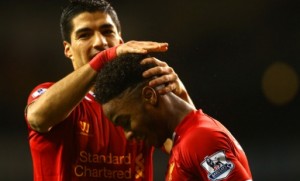 After being handed the armband for yesterdays 5-0 win over Tottenham Hotspur, Luis Suarez turned in a performance that was on par with his best.
Scoring a brace and assisting on two more, the Uruguayan is absolutely on fire, but despite the plaudits laid at the stand-in captains feet, he was quick to emphasize the importance of the team in his post match interview with Sky Sports. "It was no different, because for me, there is only one captain here at Liverpool and that is Stevie," beamed the Uruguayan. "Today I took the armband, but the team played very well and that is more important to me than being the captain."
As per usual, Suarez was involved in everything and after opening the scoring, the floodgates opened. "We played well in the first half and then in the second half, we were well-positioned" said the 26-year old who was on hand to set up Jon Flanagan for his first goal for the senior side. "Also, when Flanno scored, it was a happy moment for us."
Despite dispatching Norwich City and West Ham United in style, Brendan Rodgers side came into the meeting with Tottenham serious underdogs having not won at White Hart Lane in their last seven attempts and with echoes of their last road trip — a shocking 3-1 loss to Hull City — still ringing in their ears.
"When you play badly, you try to forget it quickly," conceded the Uruguayan. "When we lost against Hull, we knew that we played very badly." Liverpool will meet both Manchester City and Chelsea away before the calendar rolls over, but winning at White Hart Lane gives them a boost ahead of those difficult matches. "Now we have won here, so it gives us more confidence for the rest of the season" said Suarez, and if he keeps up the kind of form he's in, he could attract the ample financial attention of both of our opponents come January.