Brendan Rodgers on Cardiff City: Post Match Interview and a Bagful of Stats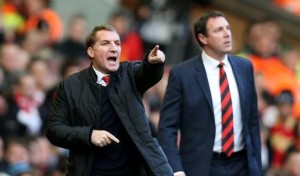 I could get used to this top of the table thing; it's still a tad early to be spouting off about title challenges — especially when Manchester City and Chelsea looming large on the horizon. Still, it's another Saturday gone and another three points for the Reds as they dispatched visiting Cardiff City with ease to climb to the Premier League summit.
A slowdown in the second half saw Brendan Rodgers men concede another cheap goal, but even with the Bluebirds pressing hard for another, the first half lead we raced to never really looked in jeopardy. "It was an outstanding team performance. In the first half, we were exceptional – some of our movement and fluidity in our game was excellent" said Rodgers. "We controlled the game, scored three and maybe could have had one or two more." One, two, maybe even three — the woodwork and mere inches kept things respectable.
Video by showmetheFOOTBALL
Routine

The run of form we're in is absolutely staggering; yesterday's 3-1 win over Cardiff City was the 9th time this season that Liverpool have scored 3 or more goals in a match, and to be fair, it could have been much more with our abysmal shot accuracy telling the tale.

Brendan Rodgers side created a whopping 23 chances yesterday, 10 more than against Tottenham Hotspur, but scored 2 goals less than they did against Spurs. Last weekend, the Reds took 21 shots — yesterday, they registered 27 shots, but could only put 33% of them on target compared to the 57% we were able to manage at White Hart Lane.

While our shooting definitely took a hit, we held onto the ball far better with Liverpool enjoying 63% of it over the 90 minutes. We were also able to connect 87% of our passes, a 2% improvement over last weekend and our season average going into the weekend of 85%, which included 29 completed long balls.

Cardiff City created little going forward — despite catching our backline napping for their only goal of the match — but we didn't exactly allow them to play their game. Liverpool were able to win 52% of our duels, which is a healthy 3% bump on our average of 49% going into the weekend. Although we posted some decent numbers with 52% of our tackles and 56% of our headed duels going in our favour, I doubt I'm the only one concerned with our penchant for gifting cheap goals to the opposition; I guess with it being the holidays we're in the spirit of giving…

Stats courtesy of Squawka
After finishing 7th last season and missing out on their target of a top four finish, a flying start to this campaign has put the Reds in the frame for Champions League football, and unexpectedly, as title contenders. Although Rodgers is keen on talking up his sides chances of taking home the ultimate in silverware, he has been quick to point to the progression of the side — a process that has been ongoing since the calendar rolled.
"Last year, it took us a while to even get into the top 10. People are talking about a good start; you can trace it back, you see from January this has been a team on the up" enthused the Reds boss. "What you see now is a set of principles and footballing ideas that we have been implementing over the course of 18 months here. They are coming to fruition and the players are enjoying playing in it."
To think that Liverpool still have the likes of Steven Gerrard, Daniel Sturridge and Jose Enrique to come back into the side makes the possibilities all the more tantalizing; and with Luis Suarez signing on for another 4 and a half years, the Reds have an astonishing amount of firepower at their disposal. Still, Rodgers remains very much focused on the here and now rather than getting caught up in the heady prospects of what could be.
"We have been on a fantastic run, the quality of our football is at a really high level – we're pressing the game very well, our aggression to get the ball back is good. We'll arrive there on Boxing Day in a really good moment. It's a game I'm really looking forward to."
After a fantastic away win at White Hart Lane last weekend, I think the majority of Reds fans are looking forward to it too…
–Steven
Enjoyed this post? The holidays are all about sharing — share this with your family, friends, enemies and government agencies on your social, or anti-social, media platform of choice.