FA Asks Rodgers to Explain Ref Criticism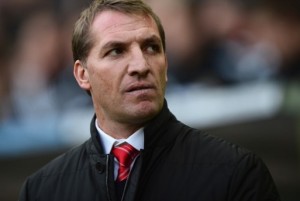 Following his post match comments about the performance of referee Lee Mason in Liverpool's 2-1 defeat to Manchester City on Sunday, Reds boss Brendan Rodgers has been asked to expand on his observations by the Football Association.
The News Desk wasn't exactly shocked to learn that the FA is investigating the Northern Irishman's comments after he described the performance of the match officials as "horrendous" and questioned the reasoning behind appointing a ref from the "Greater Manchester area" – referee Lee Mason is from Bolton – to a fixture involving a Manchester based side. "I don't think if we played Liverpool against Manchester City, we would have someone from the Wirral (refereeing)" complained the boss. Even though he's since insisted that he was questioning the logic of the appointment rather than the integrity of the ref, we weren't surprised to hear Rodgers has been rung by the FA — he predicted it in his post-match press conference.
The Liverpool boss went on to praise the performance of his players, but it was his criticism of the officials that rang out the loudest. Obviously, he knew he was stepping out of line. "I'm sure I will get a call from an assessor, and I will be asked for my opinion. I don't want it to cloud my side's performance, but I need to protect my players tonight" he conceded. Time to get out the checkbook, Brendan; you saw a phone call in your future and we see a fine.
The Reds travel to London on Sunday for a top of the table clash with third placed Chelsea and in his pre-match press conference, Rodgers was unrepentant when asked to further explain his comments. "I was only speaking openly and honestly after the end of the game," he said. Tricky tactic to draw the attention away from his players? Or was the Northern Irishman so steamed that he didn't care that an angry call from the FA was on the cards? Hard to say, but if it keeps the focus off the players so they can get it together to beat the Blues on Sunday, no Reds fan is going to be bothered either way.