All In The Family: Oldham Athletic FA Cup Preview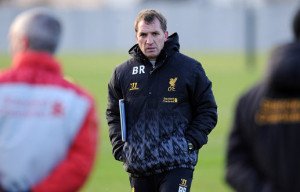 It's the third round of the FA Cup and people have already begun to grumble; there's always a section of fans — and a manager — that has a good moan about having to field a team in what's now considered by some, mostly those facing relegation or fighting for Europe, as nothing more than a distraction, but the world's oldest domestic football competition has rolled around once again and there's really no getting out of it, is there?
I try to stay pragmatic in my match previews, but if ever there was a time to exude downright over-confidence, it would be when Liverpool is matched up against a League One side. The absolute gulf in class, talent and resources between the two teams should be more than enough for the Mighty Reds to brush aside Sunday's visitors, but then you remember who they are. Oh, yeah — that Oldham Athletic; the one we lost to last year and the bosses kid plays for.
It's the Magic of the Cup once again; losing out to the Latics last year was a sprinkling of something a bit surreal, and being drawn against them again this year only adds to that, but having father square off against son is a completely different story altogether.
Liverpool boss Brendan Rodgers will welcome son Anton to Anfield in a completely different capacity on Sunday when his League One side make the trip to Anfield. "The footballing gods sometimes come into it," said the Reds manager. "Anton could end up getting a goal." The 3-2 reversal at the hands of the Oldham sent his side crashing out of the cup last year, and if fate or romance has anything to say, it could very well happen again.
Despite the Northern Irishman naming a strong attacking line-up – including Luis Suarez — a Matt Smith double and towering header from on-loan Manchester City midfielder Reece Wabara sent Liverpool back to Merseyside with their heads hung low and put a massive scalp on Oldham's mantle. Unofficially, this was the performance that relegated Martin Skrtel to the bench and re-introduced Jamie Carragher into the side with the Slovakian in a terrible run of form and unable to cope with the less than prestigious opposition.
Skrtel has been enjoying somewhat of a renaissance this season – despite already recording two own goals – though he's expected to be one of the players that sits this one out with Kolo Toure likely to deputize alongside Daniel Agger. The Reds have seen a thin squad get thinner with a number of injuries stuttering their title charge. Although the likes of Daniel Sturridge Joe Allen should be back in the near future, fullback Jose Enrique remains a long term absentee and he's been joined by Mamadou Sakho on the treatment table after picking up a knock at the end of the Festive Fixture list. With the transfer window open for business on New Year's Day, Liverpool are sure to dip into the market for re-enforcements before February rolls around, but Oldham haven't wasted any time at all.
Latics manager Lee Johnson has had his own injury problems with top scorer Danny Philliskirk and midfielder James Wesolowski in a race to be fit for Sunday's clash, but they've since brought in three players following their 2-1 loss to Shrewsbury Town. Midfield duo David Worrall and Gary Harkins have arrived on loan from Rotheram and Scottish Premiership side St. Mirren respectfully while defender Adam Lockwood has arrived to boost the backline on a free transfer having recently plied his trade at Conference North side Guiseley. Don't recognize any of those names? Yeah, me neither, but they didn't need any fancy-pants multi-millionaires to down us last time and it's highly unlikely they'll need any this time – that is, if history feels the need to repeat itself.
The Reds are in a vastly better position this season then they were last time these two sides met with Brendan Rodgers sitting pretty in fourth place. Liverpool spent Christmas day on the summit of the Premier League, but fell off the top when back to back losses to Manchester City and then Chelsea sent them outside the top four for only the second time this campaign. A 2-0 win against Hull City midweek, coupled with Everton's draw with Stoke City, sent them back to the promised land and that's exactly where they're going to want to stay.
Jordan Henderson and Luis Suarez are prime candidates to join Martin Skrtel on the sidelines for some much needed rest as Rodgers looks ahead to upcoming fixtures. Iago Aspas and Luis Alberto could get run outs along with Martin Kelly and reserve 'keeper Brad Jones as the Liverpool boss tries to keep his team fresh ahead of a busy January. While a run in the cup might be welcome for the fringe players and those who are still interested in the Magic of the Cup, but the vast majority of Reds fans have the continent on their mind and would quickly sacrifice any progression in the FA Cup if it furthered their stake to a Champions League return.
Unfortunately, I'm lumping myself in with the masses – though losing to Oldham Athletic shouldn't be on the cards even if deep down Rodgers Snr wants to take it easy on his kid. Let's at least keep this charade respectable…
–Steven