Brendan Rodgers on FA Cup Progression: Post Match Interview and Confidence for Aspas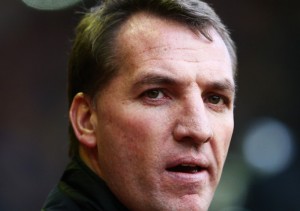 It looked a bit hairy for awhile there, but Liverpool were able to banish the memory of last seasons shock exit at the hands of League One side Oldham Athletic by knocking the visitors out of the FA Cup at Anfield yesterday.
Reds boss Brendan Rodgers made six changes from the side that beat Hull City midweek, but with a number of the fringe players failing to adapt to the pace of the game, the Northern Irishman had to make a pair of changes at half-time. "We didn't want a replay, we wanted to get through into the next round. The second half was better, we were more lively in our game and ended up with a good victory" said the Liverpool manager. Although the idea was to rest players for what should have been a relatively easy encounter, it didn't quite pan out that way.
Video by Sports News
With on-loan Chelsea winger Victor Moses off the boil, Rodgers made the decision to replace him with Philippe Coutinho at half-time and also yanked Luis Alberto — who wasn't doing too bad — in favour of Lucas. "I think you learn as a manger as you get more experience – you can't wait for it to happen. You've got to create it and sometimes you have to change the momentum" explained the Northern Irishman.
Unfortunately, changing the momentum required bringing on two players that deserved a break, but it was another player who has been on the outs that opened the scoring. Raheem Sterling, looking as tricky as ever, worked himself some space in the box and dinked a cross towards the far post for Iago Aspas to cooly volley home for his first competitive goal for Liverpool since his summer move from La Liga side Celta Vigo.
"The goal was important for Iago's confidence. It has been difficult for him" conceded the Reds boss. "You've got a world-class striker playing week-in, week-out, getting goals, and then you've got Daniel Sturridge supporting." With Sturridge on the cards for a return from injury within the next fortnight, Aspas could once again be relegated to a "cover" role as the England man reclaims his spot in the squad.
The struggling striker has had a tough time since making the switch to Merseyside in the summer despite a strong pre-season. "It was good for him to get his goal in front of the Kop and hopefully that will give him a lot of confidence" said Rodgers. Regardless of how much we may see him in the future, the Reds boss will take heart from seeing one of his summer signings take hold of his chance in a fixture where a number of other players failed to inspire.
"I thought it would be a difficult game," confided Rodgers. "You have got to give Oldham a lot of credit – they came here and made it very difficult" said the Reds boss, who continued, "We were nowhere near the speed of our game in the first half; our tempo was too slow and we didn't create enough. In the second half we were a little bit better, but it was always in the balance."
The mere fact that we couldn't dispatch League One opposition with a minimum of bother leaves us with a number of questions, but progression is progression — the alternative was either a replay to congest our fixture list even more or another embarassing loss. I'll take a half hearted display over either of those anytime…
–Steven
Enjoyed this post? Share it out on your social network of choice.