Gerrard Would Go Under the Gun to Have Reds Win Title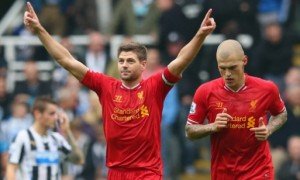 Liverpool captain Steven Gerrard is a bit of rarity in the Premier League these days and it's not down to his fantastic skill or his longevity – it's his lack of tattoo's that set the long standing Reds skipper apart from the pack, though he admitted, half jokingly of course, that he'd cover half his body in the colourful art if it would guarantee that his beloved Liverpool would win the Premier League crown.
Gerrard has lifted an amazing amount of trophies in his time on Merseyside, including Liverpool's fifth Champions League title, but a Premier League winner's medal is, so far anyways, the one that got away. Heading into this weekend's meeting with Stoke City, in a chat with Sky Sports, the Liverpool mainstay said he'd go under the gun ASAP to finally finish his collection.
"Do you want me to do a bet?" laughed the Reds midfielder. "If someone said to me now, "Cover half your body in tattoos and you'll win the Premier League", I'd do it tomorrow." He may have said it with a smile, but you'd be remiss to doubt his follow through.
While the ultimate goal for the Merseyside outfit is a return to the lucrative fields of the Champions League, the Premier League title is the trophy coveted above all else by Reds fans and players alike. For the first time since the 2008/2009 season, Liverpool look well placed to finish in the top four and this will only improve their chances of attracting the kind of talent you need to win the title.
"Teams in the middle of the Premier League are very strong now and the top sides aren't having it all their way. The league is improving year by year" mused the 33-year old. "For us, it gives us a fantastic opportunity to stay in amongst it. If we find some consistency, we believe we can take one of these top-four places and that was our aim at the start of the season."
A spot in Europe's most exclusive club competition isn't exactly the league title, but, in the very least, he won't have to get repeatedly stabbed with a needle to get there.