Aston Villa Build-Up: Lambert Gets Backing, Holt Takes a Loan and Benteke Needs to Get His Mojo Workin'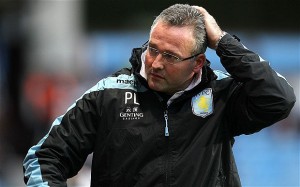 It's hard to see Aston Villa coming out of their weekend trip to Liverpool with anything but a bit of a headache. The Reds go into the weekend in fourth place in the league table and second in the scoring charts behind the freakishly poignant attack of Manchester City. The Villains, on the other hand, aren't fairing nearly as well.
Although they started the season with a major upset at the Emirates Stadium, things have been decidedly pedestrian for the Midlands side from there on out bar their shock 3-2 win over the champions elect Citizens at the end of September. It's been a bit doomy and gloomy around Villa Park these last few months with them without a win at home in their last seven matches, but despite their poor run of form, boss Paul Lambert has received a much needed – though possibly misguided – boost from the boardroom.
"You trust the manager and you let him get on with it, absolutely," said Villa chief executive Paul Faulkner. "You have that trust, it's key to any working relationship. Then you don't just let him get on with it, you work together to make it happen." If "getting on with it" is synonymous with picking up a minimal amount of points, then Lambert has certainly been living up to expectations. A 2-1 reversal at the hands of Arsenal on Monday continued a run of form that's seen his side drop out of the FA Cup at the hands of Sheffield United and pick up a mere four points in their six matches in December. Still, the Villa boss retains the backing of both Faulkner and owner Randy Lerner.
"It's about supporting him, everyone having a common goal, trying, in a very tough business, to find some strength from that" Faulkner continued. "It's how we keep taking those strides forward and making this club better and stronger again." With the winter transfer window open, the club has been trying to "make it happen" and Lambert has been able to boost his ranks with the addition of 32-year-old striker Grant Holt who has come in from Wigan on-loan for the remainder of the season.
Villa have scored a mere 20 goals this season and the addition of the veteran marksman may not do a whole lot of remedy that. Holt, who is being reunited with Lambert after the two previously worked together at Norwich, has a disappointing return of a mere two goals in 21 appearances for the Latics which begs the question of who is actually profiting from this move? The Villa boss is unmoved by this though and thinks Holt will be able to cure what ails 'em with a move back to the top-flight.
"Coming back into the Premier League will rekindle that desire in him to succeed again at this level and, if he can replicate what he did in those three years at Norwich over these next few months here at Villa, then he'll make an impact, that's for sure" said the manager. "Grant's got some really strong attributes, he's someone who is tried and trusted and a player I've worked with before. We're looking at one or two other positions as well but this is good business for us and he'll be a really strong influence."
Whether or not Holt will be able to rediscover his scoring touch remains to be seen, but if not, at the very least Lambert has Christian Benteke back and firing. The big Belgian, who was highly coveted by a number of sides during the summer transfer window, was the lone goal scorer for Villa on Monday when he struck a late consolation for the hosts – his first goal since the middle of September.
Benteke has struggled to recapture the kind of form that saw him score an impressive 23 goals in his debut campaign and attract big money offers from some of Europe's finest before committing his immediate future to the Holte End faithful with a new 4-year contract. Where prolific Liverpool striker Luis Suarez has gone from strength to astounding strength since signing his new deal at Anfield, the Belgian hitman has done nothing but decline with an injury hampered season putting a serious damper on his attempts to recapture his form, or in the very least, his confidence.
A goal against Arsenal could be the catalyst he needs to reignite his season; Benteke has punished Liverpool before and underestimating him, which I'm sure Brendan Rodgers won't make the mistake of doing, could prove to be nothing short of a fatal mistake.
–Steven
Do the Villains have a chance of nicking some points at Anfield? Or are they just plain old screwed? Let us know in the comments or hit us up on Facebook or Twitter.