Liverpool in for Ince According to One Source, No Plans for the Winger According to Another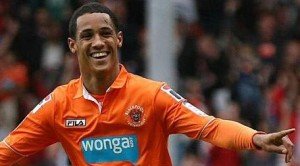 It's going to be constant media speculation from here on out folks; if you were sick of it before, might as well get the bucket back out, cause it's going to be copious amounts of media vomit until the window slams shut on Friday. First up on the list for Liverpool this Monday? A familiar face in former Reds youngster Tom Ince.
The 21-year old, who has been granted permission from Championship side Blackpool to join a Premier League club on loan for the remainder of the season, has once again been linked with a return to Merseyside with "sources" at Sky Sports confirming a late interest in the player. Ince came close to coming back to Anfield last January, but the two sides were unable to hash out a deal in the end.
The youngster is apparently set to meet with a number of Premier League sides before making a decision on where to ply his trade for the last few months of the campaign and Liverpool will now be included along with the likes of Crystal Palace, Swansea and Hull City – or will they? Saying Liverpool are in for Ince is like shooting fish in a barrel, and in a journalistic knife-fight of sorts, sources from the BBC say there's no interest from Anfield.
Respected football journalist Ben Smith tweeted earlier today that contrary to popular belief, Brendan Rodgers isn't looking at bringing Ince back to Merseyside during the winter window and the supposed late bid for the youngster doesn't exist.
After missing out on Mohamed Salah, who completed his move to Chelsea after the Blues pipped Liverpool to his signature, it's not too far out of the realm of possibility that Rodgers was looking at Ince as an alternative. On the flip side, with so many other areas in desperate need of strengthening, bringing in another winger makes about as much sense as a David Lynch movie played backwards — it might sound fun, but it gets mighty boring, mighty quick.