Brendan Rodgers on Arsenal Rout: Post Match Interview and Keeping Focus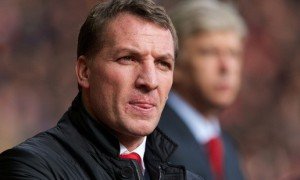 It was arguably the most important performance of the season; although the 4-0 thrashing of Everton last weekend may carry a larger sense of local pride, yesterday's utter destruction of then league leaders Arsenal truly announced Brendan Rodgers Liverpool side as a force to be reckoned with.
We've seen it in the past — the hammering of Spurs, the destruction of Norwich and West Ham United spring quickly to mind, but the 20-minute spell where we put four past the Gunners will be the one they talk about. "We were brilliant today, a wonderful performance in such a prestigious game between the two teams" said the Northern Irishman in his post-match interview. "We do a lot of work on our pressing. I always feel if we press well, we can pass well." That wasn't just us playing well — that was death by football, courtesy of Brendan Rodgers.
Video by showmetheFOOTBALL
Martin Skrtel doubled up in the first ten minutes, Raheem Sterling added a third from a Luis Suarez cross and Daniel Sturridge broke free with a Philippe Coutinho through-ball at his feet to cap off a truly mind boggling opening 20-minutes. Arsenal fans can say what they'd like; they weren't that bad, we were just that good.
"To play like that, not just the result, but the performance level was absolutely out of this world" the boss continued. "I'm very pleased and it's another marker for us that we're getting better and improving all the time."
If we needed to thrown down the gauntlet following a disappointing showing at the Hawthorns, we did it in a big way. "There's no doubt we've been outstanding for a big part of the season" enthused Rodgers. "We've had one or two off days, but in the main the quality of our game has been incredible."
Three points yesterday meant that Liverpool couldn't be bumped from fourth place — and with Tottenham Hotspur beating the Reds closest chasers in Everton earlier today, there's now a three-point gap separating fourth from fifth. "The objective has always been to finish as high as we possibly can, but you have to also look at the other teams around you" explained the Liverpool manager. "We'll just keep focused and keep our concentration." With a number of high-profile matches on the horizon, they're going to have to do just that.
Although the boss has ruled us out of the title race, we can still play a big part in it — though the real interest, of course, lies in where we finish. Hosting the likes of Chelsea, Manchester City and Tottenham Hotspur is all good and well, but if we're not picking up points, someone else will be. Securing Champions League football for next season is paramount.
"I want to be in a position where we can really challenge for the title" enthused Rodgers. "The players have been incredible; we just hope to continue with that development and see where it takes us." If we keep playing the way we are, it's going to take us all the way to the continent — upwards and onwards.
–Steven