Rodgers Looking to Improve Away Form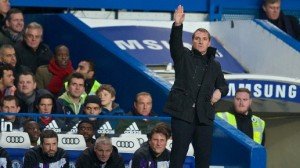 Liverpool go into this evenings trip to Craven Cottage looking to both solidify their claim to a top four spot, as well as put their woes on the road behind them after a 1-1 draw with West Bromwich Albion on their last trip away from home stunted their momentum.
When his side is playing at Anfield, Liverpool boss Brendan Rodgers must feel like rushing out and buying a lottery ticket – since he can't be betting on football games like the rest of us – but when they're on the road, the mood is less than jubilant. On Merseyside, the Reds have picked up an impressive 34 points so far this campaign, but their away trips haven't been quite as profitable with a mere 16 points picked up away from home – something the Northern Irishman is looking to rectify.
"At times I just think we haven't quite got the results away that our performances have merited" conceded the Reds boss. "But our form is fantastic. We're going to Fulham full of confidence and we just need to keep that going." With a 30-point gap separating the two sides, the visitors will be expecting to pick up all three-points, but they know that victory isn't a pre-determined fact.
Coming off the 5-1 thrashing of fellow Londoners Arsenal over the weekend, Rodgers insists that the bottom of the barrel Cottagers will be treated the exact same as the former league leaders. "We've beaten the team at the top but that's gone now. Every game is critical for us whether it's against the top team or the bottom team" explained the Northern Irishman. "Fulham will represent a difficult challenge for us. They are coming off the back of a very creditable point against Manchester United when they showed great resilience. They will have gained confidence from that."
As true as that might be, picking up points against Manchester United — even on the road —  isn't all that hard these days, is it?