Jordan Henderson Thinks Liverpool Have a Shot at the Title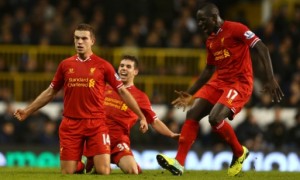 Following the drama of yesterday's win at Craven Cottage, Reds central midfielder Jordan Henderson has eschewed the party line by refusing to rule Liverpool out of the title race.
In the build up to the Merseysider's 5-1 thrashing of then league leaders Arsenal, boss Brendan Rodgers gave any talk of making a run for the Premier League crown the cold shoulder, saying that for Liverpool, as a team, it was too early to think about snatching the top spot. Club captain Steven Gerrard backed his skipper up in the wake of the Gunners massacre — though he sounded more than a touch reluctant to give up on the one trophy that's eluded him during a storied career. Throwing wet blankets around might be the rule of the day, but Henderson wasn't about to participate after his side grabbed a last gasp victory in London last night.
With fellow top four sides Arsenal and Chelsea dropping points midweek, the 23-year old took a far more positive view of the league table. "Never say never," said Henderson when asked about Liverpool's chances of securing their title of the Premier League era. "Obviously we're quietly confident in every game we go into that we can win and we've just got to keep doing that until the end of the season, and then see where we are."
Three goals last night, coupled with Manchester City's meeting with Sunderland being called off due to poor weather conditions, has seen Liverpool draw within 2 goals of the rampant Citizens current haul of 68 – something Henderson credits on the performance of the entire team. "The forward players have been fantastic but I think the whole team has been playing brilliantly," the Reds midfielder continued. "Everyone's playing their part at the minute and hopefully we can keep that going."