Liverpool Need to Consolidate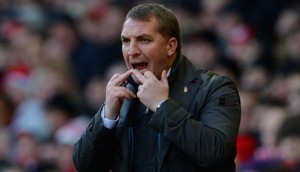 Before we can look at snatching the title, we have to consolidate our place in the top four explained Reds boss Brendan Rodgers in the build up to tomorrow's meeting with former side Swansea City.
With Liverpool looking well placed going into the weekend to qualify for next seasons Champions League, the Anfield boss has targeted taking full points from our remaining 12 matches in order to keep pushing the sides around us — but, he's also admitted that we need to secure our place in the top four, and prove our credentials on the field, before we even consider making a serious run at claiming our first title of the Premier League era.
"I think we have shown in our performance level that we are as good as any of the English sides this season," Rodgers told Liverpool's official website. "We just need to do it over the next 12 games and prove it on the field. If we do that it will take us to [Champions League] level." A return to Europe's most lucrative club competition has been the aim for owners FSG since taking over the club. The Northern Irishman has galvanized the team this season and has, in some respects, over-achieved, leaving supporters and pundits alike to talk about a title tilt instead of a mere top four finish.
"The first job is to consolidate our place in the top four" explained the Anfield boss, once again trying to dampen wild ideas. "Once you're in there then you can look beyond that. Our ambitions are still further but we have to take it game by game." With 12 matches remaining this season, the Reds have some difficult hurdles to clear with the likes of Tottenham, Manchester City and Chelsea visiting Anfield, as well as a trip to Old Trafford still to come.
"We just want to keep pushing" continued Rodgers. "Over the course of these next 12 games, we will be prepared and ready to get maximum points. We know that will be difficult but we have real confidence at the moment in our game."