Red's Vice-Captain Backs "Great Talent" Raheem Sterling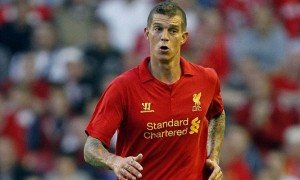 Players have been lining up to heap the plaudits on Liverpool winger Raheem Sterling and the Reds vice-Captain Daniel Agger is the next in line.
Sterling scored within 80-seconds of replacing off the pace Samba boy Philippe Coutinho as the Anfield outfit marched to another three points in their 3-0 win over Southampton on Saturday and Agger believes that if the youngster keeps playing the way he is, he'll be on the plane for this summer's World Cup in Brazil. With Arsenal winger Theo Walcott ruled out through injury, the opportunity for the Kingston, Jamaica born youngster is his to blow – something the experienced defender believes Sterling will handle without a problem.
"He can handle the pressure, or else he would not play for us, for Liverpool. It's a great opportunity for him," said Agger in a recent interview. "If he continues what he is doing right now I cannot see why not (for the World Cup squad). He is a great, great talent and has some qualities England can use." The Great Dane will find himself in a strange position when he lines up opposite his Liverpool counterparts when Denmark takes on England in an international friendly midweek, but once that's over, his thoughts will be back on the Merseyside club.
"I think as a footballer you have to look at the next game, and the next game is against England for Denmark, so I can put that away for a bit, and as soon as that game is finished, back to Liverpool" he continued. The Reds have a bit of a lay-off until their next match with their meeting with Sunderland rescheduled due to the Black Cats on-going involvement in the FA Cup, but they'll be thrown back into the fire straight after that with a trip to Old Trafford on the cards.