Bill Shankly Memorial Planned to Mark 101st Birthday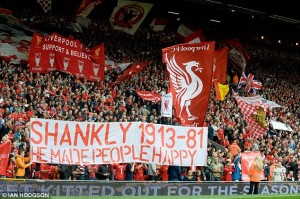 He made the people happy and Bill Shankly's home town is looking to honour the memory of the great man with a memorial planned to mark his 101st birthday.
The 10ft monument, which is being designed by John Crosby and is set to be unveiled in September, will be placed in Muirkirk, Scotland — four miles away from his birth place in the mining village of Glenbuck. It will be made of 120 steel sheets and resemble one of the trade union banners that were commonly flown at Anfield during Shankly's time in charge on Merseyside — a fitting tribute to a true man of the people who believed that everyone should reap the rewards of working together.
The Reds legend turned around Liverpool's fortunes when he took over the struggling Second Division side in 1959, and the rest is history. Although he quickly became a legend on Merseyside, and one of the most respected men in football, the man his family called "Willie" never let his achievements go to his head. "He would have been very proud of this memorial" said his niece Barbara Alexander, who was on the board that selected the final design. "Uncle Willie never forgot his roots."
Pictures from his first club Carlisle as well as his time at Liverpool are set to feature prominently in the design and former Reds player John Joyce, who was involved with the project, appears in two of them. "One of the photos was taken in 1972 in the dressing room" he explained. "Bill was so respected. You can see us all looking at him in awe."
The monument is set to be unveiled on September 2nd — the day that Kopites everywhere will celebrate as the great mans 101st birthday.