America Interests Pepe Reina (Just Not Right Now)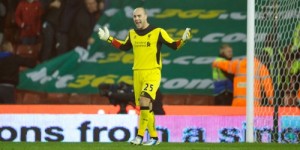 With the season winding down, it appears that neither Liverpool nor Pepe Reina know what the Spanish shot stopper will be up to next season – not quite yet anyways.
While the 31-year old is refusing to rule out a reluctant return to Merseyside, it's a different story altogether coming out of the Reds camp with boss Brendan Rodgers making it clear that the on-loan 'keeper has played his last match for the Anfield outfit with a rather harsh assessment of the former Kop favorites prospects of plying his trade under him again. With a move certainly in the works, Reina isn't sure where he'll end up, but a move to America is something that he'd like to explore in the future.
"I would like to try to do something different in the future," Reina recently told the website of the Spanish National Football team, Diario de la Roja. "Maybe America or something like that." The MLS has become an attractive option for a number of stars to have one last shot on the pitch when they've found they can't quite cut the mustard on the European stage – but the Spaniard doesn't see himself picking out a condo in Miami quite yet.
"My idea is to have three or four good years somewhere and then after that go somewhere else for a couple more years" he continued. "I think I have five or six years left." It's highly unlikely that any of those years will be spent back at Liverpool though with Simon Mignolet firmly established as Brendan Rodgers number one and the 'keeper once again confirmed that he faces an uncertain future. "Nothing has been confirmed yet but I've got the feeling that Napoli are happy with me and I think they will talk to Liverpool to see what the situation is" explained the 'keeper. "It would be hard for me to go back to England."