Benitez Coy on Reina Future Despite £4.1mil Release Clause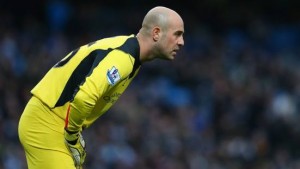 Wow, there's been a whole lot of talk about Pepe Reina lately; despite flying under the radar for much of the season while on loan in Italy, with the season winding down, the Spaniard is making a lot of noise — and not all of it has been good.
Although Liverpool manager Brendan Rodgers has more of less ruled out the 31-year old ever playing for the Reds again, Reina has refused to rule out a return to Merseyside this summer if things don't work out at Napoli — though he hopes to stay on the continent with "the bestest manager ever" Rafa Benitez. There's been quite a few suitors rumoured with a move for the shot stopper, but the Napoli manager has remained coy on the 'keepers future.
"He reads the game very well and is one of the best goalkeepers in the world," said Benitez when asked if he'd like to keep Reina past his initial loan spell. "Will he stay at Napoli? He has a clause and we know it – meanwhile he should continue to do well until the end of the season." The revelation of the clause, confirmed to be for £4.1mil and allowing him to leave at the end of the season, could be both a blessing and a curse for Liverpool.
Barcelona and Atletico Madrid have both been linked with a move for the the 31-year old — though now that it's well known that he's no longer needed, or wanted, on Merseyside, and could leave for less than £5mil, a side could try to snatch him up on the cheap. Though Reina has been a fantastic servant, his time has come and gone; now, let's try to get some cash for him.