Jon Flanagan Admits Title is on the Mind Again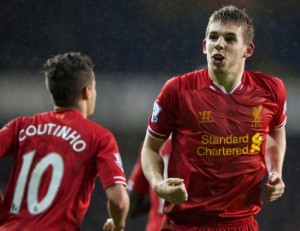 Despite constant attempts from Liverpool boss Brendan Rodgers to dampen talk of his side capturing their first title of the Premier League era, some players just won't shut up about it – surprisingly, one of those players is Jon Flanagan.
The Scouse youngster, who is enjoying not only an extended run in the first team, but keeping experienced fullback Glen Johnson from playing in his preferred position, has admitted yet again that the Anfield outfit have dream of finishing at the top of the table. After finishing seventh in Rodgers first season in charge, jumping to the top of the heap would be completely unprecedented – something that doesn't concern Flanagan one bit.
"It's on my mind and I think it's on a lot of the lads' minds that we could be up there at the end," the 21-year old told ITV when asked if they harboured ambitions of lifting the Premier League trophy, "but our priority was top four and if we can push on I'd be delighted with that." The Reds have been knocking on the door all season, and with ten matches left in the campaign, they sit seven points off league leaders Chelsea, who have played a game more and still need to visit Anfield.
With Spanish fullback Jose Enrique still on the treatment table, Flanagan could very well keep his spot in the side for the remainder of the season. "I'm feeling more confident now I've had a run of games," he continued. "Maybe last year I didn't feel like part of the squad but now I'm in the team and having a good run so I'm feeling a lot better and more confident." It's still a long way off, but it must be hard for him not to dream of lifting the Premier League trophy – could you imagine doing that in your first full year in the Liverpool first team? Absolute dream come true…