Lucas Targeting Samba Boys Spot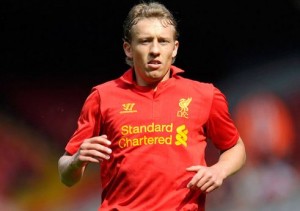 After completing the entire 90-minutes as the Liverpool reserves downed West Ham United's famous academy with an empathic 2-0 win, Lucas is glad to be back on the pitch and is looking forward to the run in to the end of the season as he targets a spot in the Brazilian national team for this summer's World Cup in his home country.
"It was really good for me to get going again and try to improve my fitness" Lucas told the official website in the build-up to Sunday's trip to Old Trafford. "I was lucky that I wasn't out for a long time and I'm now looking forward to first-team action. Hopefully I'll be able to help the team again for the next 10 games because we know how important they are." If the 27-year old wants to get a phone call from Brazil coach Luiz Felipe Scolari, he's going to have to get back in the first team real quick.
The defensive midfielder has been on the sidelines since damaging knee ligaments during the Reds 2-2 draw with Aston Villa back in January, and with a limited number of matches left in the campaign, the window of opportunity for him to impress Scolari has narrowed significantly.
"It's a massive two months for me, especially looking towards the World Cup at the end of the season as well, so I can't afford to miss many more games" continued the Brazilian. "When you are out of the international team and squad there is always someone else who will have a chance to impress, the competition for places in the Brazil squad is so big, so that's why I'm really confident that if I have a good two months ahead then I will have a chance to play at the World Cup."