The Front Line is Everywhere: Manchester United Preview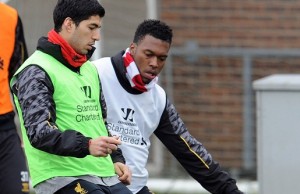 I'm not sure that you could find too many places more inhospitable to Liverpool football club than Old Trafford — and I'm not even talking about the less than warm reception the Manchester United faithful give the travelling Kop.
Although Brendan Rodgers side make the short trip to Manchester in an obviously enviable position, the Reds record at the home of their greatest rivals makes for grim reading; we may still chuckle about the 4-1 thrashing dished out back in 2009, but the hosts have had far more of the bounce per ounce over the years. Memories of Rafa staying cool as you'd like as his team dismantled a grossly over confident United still warms the cockles — that is, until you remember that was our only win away to United in eleven visits.
A month ago, I'd be writing about Liverpool's poor away form and how that will hamper them on the road, but back to back wins away from Anfield has stemmed the tide with the 3-0 victory over Southampton — a fixture they failed to take full points at in eleven years — standing as a testament to the Reds transformation into a serious fighting force. History may be on United's side, but Rodgers has banished all kinds of hoodoo this season, and the curse of Old Trafford could very well be next.
It's not that hard picturing the Anfield outfit running away with all three-points either; even United manager David Moyes can do it. Whether it was an honest assessment of his side's chances, or a hair-brained attempt at a Fergiesque mind game, the Scotsman talked down the hosts chances of stopping their red hot rivals in their tracks in his pre-match press conference, much to the amusement of the Liverpool faithful.
As the old cliche goes, the form book goes out the window for the derby, but, to be quite honest, you can't throw the form book away if you can't even find it. Last years champions look to be on course for a mid-table finish, and anything less than a win tomorrow will almost certainly rule them out of the race for Champions League qualification — the first time the Red Devils would miss that mark in 20-years. Going into Sunday's clash, Wayne Rooney and company sit eleven points off of second placed Liverpool. Come Monday morning, if they find themselves 14-points off with only nine matches left to play, they can pretty well call it quits.
At the opposite end of the spectrum, should the Reds drop points against their oldest rivals, it won't be the end of the world. Of course no one wants to consider a loss — especially not to United and especially not if we want to stay in the title race — but Rodgers has some wiggle room with fifth placed Tottenham Hotspur six points off and having played a match more. It's an odd bit of luxury having the table quite literally turned like this, but we're not about to dial back the intensity.
Not against United and certainly not now.
We may have only one win in our last eleven visits to Old Trafford, but that big win came in a big way, though I can say wholeheartedly that a win tomorrow would eclipse it. We've suffered through the consequences that come with missing out on Champions League football. We know all too well what happens when you appoint a dodgy manager that lets a declining team sink even further. Though I have no doubt that United will live through this — like a cockroach, they will persevere — this isn't about them.
Schadenfreude is something I've lost the taste for; this isn't about their misfortune and our opportunity to heap it on them. This is about us. This is about three points. This is about reclaiming a position we relinquished kicking and screaming twenty years ago. This is about Liverpool putting down a marker, showing that we're prepared to go over the top no matter where the front line is.
Old Trafford and your stupid curse be damned. We're coming for you.
–Steven