Liverpool Boss Brendan Rodgers Hails Impact of Dr. Steve Peters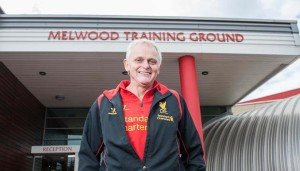 With a mere handful of matches left in the season, Liverpool are chasing the Premier League title — something no one expected when the season kicked off way back in August. Although both the squad and manager Brendan Rodgers will take most of the plaudits, the Anfield boss has hailed the influence of sports psychiatrist Dr. Steve Peters and the part he's played in the Reds amazing season.
"Every club I've been at, I have always worked with a neurologist or sports psychologist," Rodgers told the Liverpool ECHO. "Coming to Liverpool, it was important we got in the best." Having the best, it would seem, has paid off in a big, big way.
Going into this weekends meeting with Manchester City at Anfield, the Reds have won nine games on the bounce, scoring for fun in the process. "When I first met Steve, he was not sure about football because he'd always been kept at arm's length and the experiences he had in football very briefly were not very good" the Northern Irishman continued. "But we asked him to come here, he's done that, it's worked extremely well and he and I have a very close relationship in terms of the importance of the role."
"He has been excellent, but there are other elements of our team which are very professional and do a great job. He's a specialist in what he does, and a genius in that field, and is such an understanding guy" enthused the Reds boss. "The players are enjoying their work. I've seen the intensity and tempo keep going up a notch and that's because of excitement. There's certainly no fear."
Peters, who will be working with the England national team this summer, is best known for his work with Olympic Gold Medalists, but a number of Liverpool players have also spoken of the positive effect he's had on their respective games, with the likes of Daniel Sturridge, Steven Gerrard and Luis Suarez being the most vocal. Considering all three of them hit the double digits in the scoring stakes, we can see why…