Liverpool Linked with Radamel Falcao and Ezequiel Lavezzi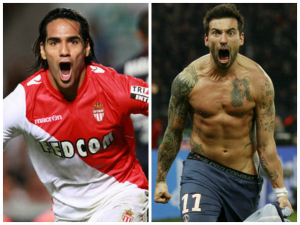 The transfer window never fails to throw up at least one sublimely ridiculous rumour every week, but this time around we've been blessed with at least two with news that Liverpool are in for both AS Monaco striker Radamel Falcao and PSG attacker Ezequiel Lavezzi.
With Luis Suarez beating a hasty retreat to Barcelona early last month, the Reds are flush with cash, but a world class striker short. After suffering a horrible first season in France following his move from Atletico Madrid, the once mighty Falcao is apparently on the market, and according to well versed pundit Mina Rzouki, it's a two horse race for his signature with Liverpool and Manchester City baring down on the finish line.
What makes this even more suspect, is the Anfield outfit are apparently in the lead. "It's not yet done. Falcao is between Liverpool and City but the former quite a bit in the lead to land the player" she tweeted yesterday. "What a coup it would be."
Maybe it would have been a massive coup two years ago, but after missing both the second half of the season and the World Cup due to injury, questions remain over both the striker's mental state and his fitness. Massive wages aside, the 28-year old is getting a bit long in the tooth for the Reds youthful set-up and it's hard to see Fenway Sports Group shelling out anywhere in the region of what Monaco would command to let him leave.
You can pretty much repeat that last bit about Ezequiel Lavezzi as well. Despite the press linking us with a £18mil move for the Argentinian hit-man, the 29-year old hardly fits the Liverpool model. PSG may need to sell one of their many high profile players to avoid falling afoul of UEFA's strict Financial Fair Play rules for a second season running, but it's highly unlikely that the Reds will be the patsy that splashes a ton of cash on Lavezzi.