Adam Lallana Improvement Encourages Reds Boss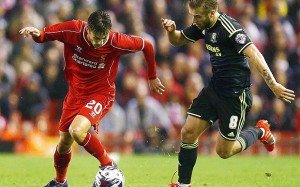 Liverpool midfielder Adam Lallana hasn't made the kind of impact for his new side that he would of wanted to following a big money move from Premier League rivals Southampton over the summer. A knee injury put his pre-season on hold, and though he's well versed in the rigours of the English game, he hasn't quite bedded into the Reds set-up quite yet.
If his performance in Saturday's 1-1 draw with Everton is any indication though, then it's pretty apparent that the 26-year old is not only building up his fitness, but he's rediscovering his feet as well. "I thought he was outstanding," said Reds boss Brendan Rodgers when asked about the £23mil man. "To come into his first derby game and play with that quality and intensity [was impressive]."
An injury time equalizer from Toffee's captain Phil Jagielka meant that Lallana had to share the spoils with the team he supported as a boy, but when you compare the level of composure in the performance he put in on Saturday to his debut for Liverpool against Aston Villa earlier on in the month, the difference is there for all to see.
Rodgers has seen a number of his new charges fail to impress since bringing in nine new players during a busy summer, but as they begin to adapt to their way of playing, many of them — including Lallana — will quickly come into their own. "And he played the whole game in midweek against Middlesbrough. To deliver that performance was great because it shows me he's getting fitter and fitter now with each game" continued the Northern Irishman. "I thought his performance was outstanding."