Liverpool Captain Refuses to Point Fingers over Emotional Departure Decision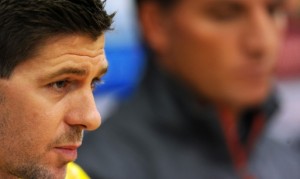 With a move to Major League Soccer all but officially announced, Liverpool captain Steven Gerrard has refused to point fingers with regards to his decision to leave the side he's served for the last 26-years, but he has confirmed that he would have signed a contract extension had it been handed to him during pre-season.
"Yes, if a contract had been put in front of me in pre-season I would have signed it. I'd just retired from England to concentrate all my efforts on Liverpool. I didn't want my club games to be tailored" revealed the 34-year old in an interview with the Liverpool ECHO. "My injury record had been fantastic for the past two and a half years and I had a great season from a personal point of view last season. "It's all ifs, buts and hindsight now. That period between the summer and the end of November gave me thinking time."
Everyone has an opinion about Gerrard's decision to leave his boyhood club, though the prevailing one has been that the Reds didn't do enough to keep him at Anfield. Liverpool boss Brendan Rodgers has revealed that the club did not offer him a coaching role in an attempt to shift his decision. Regardless of what the Anfield hierarchy did or didn't do, Gerrard has refused to bad mouth his current employers, insisting that he remains on good terms with everyone at the club.
"It was tough but I understood. It's been very amicable. Everyone knows how much I rate Brendan. Our relationship is very good. There is no finger pointing from me towards the manager or anyone else at the club" he said, going on to reveal that he never wanted to play a diminished role at Anfield. "I've never wanted to be a squad player. If I was missing games now, I'd be sitting out even more next season. I knew it would get worse and worse as time went on" continued Gerrard before re-iterating his love for the club. "There's no blame and I'm not angry about it. There are other people in the squad and the club had other things to worry about. Liverpool Football Club have been unbelievable for me since I was eight years old. This club has helped me fulfil my dreams over and over again."