Simon Mignolet Loving the Anfield Spotlight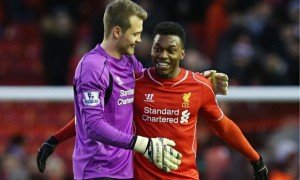 It only goes to show how fast things change in football; last month Liverpool looked more likely than not to replace under-fire goalkeeper Simon Mignolet with just about anyone with two arms and half a brain, but the Belgian has seemingly battled his way back from the dark days and is currently enjoying his run in the sun.
With five clean sheets over their last nine matches, Mignolet is looking like a different 'keeper altogether, though he's kept the same positive attitude all season and even when the transfer speculation was at its most intense. "You know that there is always a spotlight on top of you," said the Reds shot-stopper ahead of tomorrow's trip to Selhurst Park. "You are always going to be under pressure but on the other hand it's our job and you get used to it. So it's not really pressure, it's something more that you enjoy."
The Belgian didn't look like he was enjoying his football at all earlier in the year with a number of high profile blunders and a serious case of indecision leading to Reds boss Brendan Rodgers dropping him in favour of understudy Brad Jones. An injury against Leicester City for the Australian meant that Mignolet was back in the frame, and he hasn't looked back since.
One only needs to look at the stunning save he pulled out of his bag when Tottenham Hotspur winger Erik Lamela found himself with room to shoot on Tuesday night to see that the 26-year old is back on his feet again — and from the sounds of things, he's loving every minute of it. "Everybody likes to play in front of a big crowd, everybody likes to play in the big games" continued the former Sunderland man. "It's something you enjoy and something actually that you relish to do." Hopefully he feels the same way after facing off against Crystal Palace…