Agent: No Negotiations over Kovacic's Future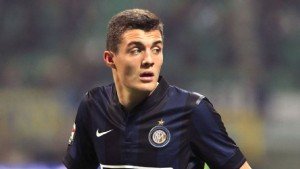 With Steven Gerrard's departure for Major League Soccer side LA Galaxy creeping closer and closer, rumours continue to swirl regarding who Liverpool will bring in to replace the mercurial midfielder with Inter Milan hot-shot Mateo Kovacic being tipped to move to Merseyside as heir to the throne.
While replacing the 34-year old with bright, young talent would fall in line perfectly with the Reds transfer philosophy, the Croatian playmaker's agent Nikky Vuksan has been quite vocal on the subject of his client filling in the Gerrard sized hole that's set to appear at Anfield this summer. "It is not going to happen" he told Croatian media outlet Vecernji List when asked yet again if Kovacic is moving to an English club this summer. "Mateo extended his contract with Inter in January. Could it be that clubs are negotiating? No, that is not possible without Mateo and me knowing about it."
That, of course, runs in the face of the media narrative, but it's certainly not the end all, be all. With Inter floundering mid-table in Serie A this season, the Italian giants could very well be facing a financial pinch come this summer without European football to help swell their already dismal coffers. Add to that boss Roberto Mancini's interest in bringing Manchester City midfielder Yaya Toure to the San Siro and real questions of where the money is coming from start to arise quite quickly.
Whether or not the Nerazzurri actually see the big Ivorian as an attainable transfer target remains to be seen, but with Kovacic's influence on the squad and time on the pitch not exactly satisfying his agent, Vuksan had no problem talking up what an important player he is for the Milanese side all while taking a pop at Mancini and his ability to get the best out of his client. "The Nerazzurri extended and improved his contract, taking his wages up to €4m. It wouldn't make sense for them to do that if they didn't consider him an important player" he explained, once again pooh-poohing the transfer angle. "Probably the only one who doesn't see it that way is Roberto Mancini, who doesn't use him in the right way or for enough time. These Coaches have no idea how to play him!"