Marseille Winger Andre Ayew Reveals Reds Love as Transfer Rumours Heat Up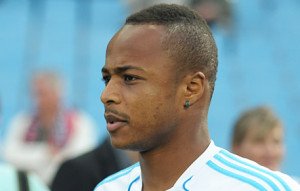 While it's a bit too early to get into too much transfer gossip, in demand Marseille winger Andre Ayew has turned up the heat on rumours of a potential move away from Ligue One this summer with the 25-year old revealing that not only has he been in contact with a number of top clubs from all over Europe, but that his favourite football team is Liverpool.
Although there's been no indication quite yet that the Anfield outfit are eyeing him for a potential move, that could very well change in short shrift. "All my life I have been a Liverpool fan. When I was young I was watching the Liverpool games," the Ghanaian attacker told Sky Sports in a recent interview. "Steven Gerrard is my favourite player. It will not be easy to see him leave in the summer, but we all need a new challenge."
That, of course, looks to echo his sentiments about his own career as well. After almost joining Premier League strugglers Queens Park Rangers in January, Ayew looks almost certain to be leaving the Stade Vélodrome this summer, though his destination remains unclear as of yet.
"I have had a lot of different offers from different countries, but I will have to discuss with Marseille. "I will make a decision soon, and look at the offers that are coming in and decide what is best for my future," he continued before expressing his love for ol' Blimey. "The Premier League is the best league in the world today, and it would be an honour play there. I am still in contract with Marseille, so I cannot give names of clubs, but there has been contact."