Chelsea Preview: Who Doesn't Like to Beat Up on the Champions?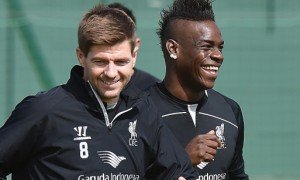 With three matches left to play this season, Liverpool travel to Stamford Bridge on Sunday with their faint chance of pipping Manchester United to fourth place and the final Champions League spot still alive; their opponents in Chelsea will have a far different attitude towards their remaining fixtures though after the Blues secured the title at a canter last weekend.
It goes without saying that Jose Mourinho's men won't want the Reds to spoil the party, but there's no question that the match would have taken on a far different tone than if the Blues were still chasing the top spot. That, of course, is no longer a concern with the visitors set to observe tradition and provide the newly crowned Champs with a guard of honour prior to kick-off — now, whether or not that'll be a motivator for the Anfield outfit remains to be seen.
That Steven Gerrard, who will standing at the front of the queue before playing what's almost certain to be his last match against Chelsea before departing for Major League Soccer, will give the Blues faithful with yet another opportunity to take a shot at the long serving Liverpool skipper is nothing but a quirk of the fixture list, but the respect and plaudits for the 34-year old coming out of their camp from their management is anything but an untimely coincidence. Mourinho, for all the vitriol and mind games that he's associated with by opposition supporters, has been glowing with his praise for a player that he's tried to sign at almost every turn he's taken in his career; a gesture that's as aptly deserved as it is unexpected.
After scoring the winner against Queens Park Rangers last weekend, Gerrard is almost certain to start when the Reds run out in the Capital and he could be joined by Lucas after the Brazilian returned for the closing minutes of the match. Mamadou Sakho is still sidelined with a hamstring problem, but Mario Balotelli may be in line for a recall to the starting eleven depending on how the foot injury he picked up against Hull City is fairing. The Italian rejoined full training earlier on in the week, and though he's expected to leave Anfield when the window opens this summer, Liverpool boss Brendan Rodgers may want him to lead the line — now, just how effective he'll be is debatable.
While the visitors scramble to put together the strongest possible squad that they possibly can, there are suggestions that their hosts won't be quite as bothered. Mourinho gave his players four days off after they secured the title in a narrow victory over Crystal Palace last Sunday and there's been whispers in the press that a number of first team regulars — including PFA Player of the Year Eden Hazard and the perpetually injured Diego Costa — won't feature this weekend. Defenders Filipe Luís and Kurt Zouma may be drafted in to the starting eleven while Thibaut Courtois could be given a break with Petr Cech, who has been widely tipped to leave the club in the summer, given a run out ahead of what may be his last ever appearance for the Stamford Bridge side.
Regardless of who they line-up against, Liverpool have no choice but to win. Of course, that's not to say that they will considering that the Blues have been head and shoulders above the competition this season, but if the Anfield outfit wants to qualify for the Champions League, they're going to have to win all of that their remaining matches. Although even that won't guarantee a top four finish, with Rodgers job under severe scrutiny following a poor campaign, a cracking end to the season will not only ensure qualification for the Europa League, but it may also buy him the kind of goodwill that could very well see him in remain in charge for when the next one kicks off.
And, besides that, who doesn't like to beat up on the Champions?
–Steven