Buyer's Remorse – The Brendan Rodgers Story and The Rise of the Cult of Klopp
There has been a great deal said about Brendan Rodgers and what his tenure at Liverpool will be remembered for and as you may have guessed, this may very well turn into the same sort of post. Can I find new words to describe his tenure? Can I find a new meaning that others have not already found? Or is this post just like all the others and it will do nothing but appease this poor writer as he searches for a way to make being a Liverpool fan that very much fell in love with Rodgers seem less deluded.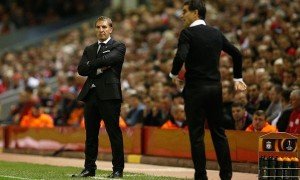 Questions you see, tend to linger in scenarios such as these and when you throw in the fact that there is very little being said by anyone at the club about what remains unanswered, it can be difficult for a fan to feel any sort of appeasement. Here we all are. 8 matches into a season that has been lacklustre at best and we are now searching for a new manager to take the helm.
Rodgers should have been sacked at the end of last season, he should have been resigned actually, but that is very easy for me to say because I am sitting here, in a dark room play-acting the part of a journalist, all the while knowing, that my own mediocrity is the reason that I am not doing more with my life. Rodgers however, unlike most, not only dared to dream, but also had the gumption to go out and find a way to make his dream a reality.
That is an absolute truth. You can attempt to rewrite history all you want, but when all is said and done, Rodgers was seen as the best man for the job and that only happens because he dedicated his life to being a football manager. It was the kind of dedication that makes Luis Suarez Luis Suarez. It may not have worked out in the end and I for one am absolutely torn up inside at the way the Rodgers story has to end.
Some may find solace in the fact that they were right all along, however, I dare any man, woman or child to tell me that Rodgers was not the right man for the job in 2013/14. Since then, you can go for your life, but that season, he was our manager and we sung his name because it was the right thing to do. It was the way Liverpool fans behave when they are at their best. We want idols. We make our own. We sing their name. We band together.
Now, we have a fanbase, a squad, an ownership group and some God damn transfer committee members that all seem to want to go their own way. We have hubris, we have arrogance, we have petty politics, we have disloyalty and we most of all we have one big mess.
This is why, FSG need to act quickly and act in such a manner that fans all over the world unite again behind a cause that they can believe in. Bring us a Director of Football, banish the hearsay of the transfer committee but most of all bring us Klopp.
This is about the only appointment that will bring us all together at this point. He is the only manager out there that will unite us all and what we need more than anything right now is to be united.
Rodgers, did his best, I wish it was good enough, but here we are, so the only thing we can do from here on out is to embrace the next manager in a way that tells the world we are back, we are the best supporters in the world and there is nothing anyone can do to stop us now.
Rodgers laid the foundations for that next step, unfortunately for him, he lost his way after a season that was more than horrific. The pieces, however, are all there for Klopp to come in and add his special stardust all over Liverpool FC before we embark on our next journey.
This should be our future.
But while we look ahead, it may be the right time to maybe also look back and appreciate what was the most fun we had in years. Thank you Rodgers, sorry it did not work out, but we'll always have (the second) last summer.