Klopp's Reds Revolution Can Deliver First Premier League Title
An uncanny and unfortunate look-a-like of Viz comic strip character, Modern Parent Malcolm, Jurgen Klopp is presently the daddy of all Premier League managers in the eyes of the clear majority of Liverpool fans rather than the right-on middle-class buffoon his alter ego represents.
Since his appointment as Brendan Rodgers' successor was confirmed in October 2015, Klopp has become King of the Kop with his tactical acumen and skill in developing players admired as much as his catchy sound-bites and apparently easy-going persona.
Klopp's win ratio after 62 games in charge is just 50 percent – the same as Rodgers' – and below that of other modern-day Reds' managers such as Raphael Benitez and Gerard Houllier, but he has got Liverpool fans believing again. He has embraced the job – and the fans – and has got everyone dreaming of a first league title win since 1990. If you study the outright odds on a Liverpool title win, you can see that even the top sports betting sites are starting to fancy the 'Redmen' to triumph, with their price seemingly shortening with every passing week of the campaign.
Ironically for a foreign manager, it is his treatment of the Reds' three England internationals that has been one of his most striking successes. Most Liverpool fans – and Milner himself – thought Klopp has lost his senses when putting James Milner (pictured in red) at left back but the former midfielder has been a revelation in his new role. Playing Jordan Henderson as an anchor man in midfield was another astute move, while Adam Lallana's confidence seems to be growing day-by-day thanks to the free-flowing attacking football encouraged by Klopp.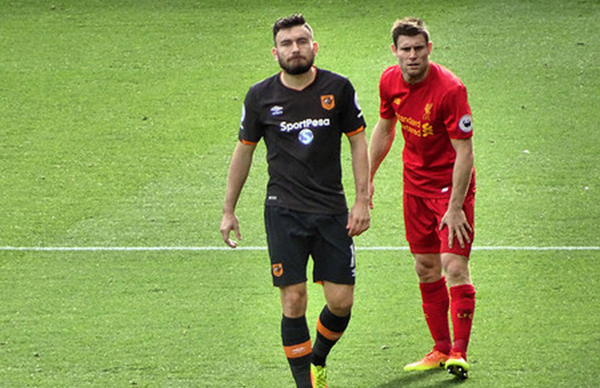 After a £30million move from Southampton to Liverpool in the summer, Senegal international striker Sadio Mane is starting to pay back the club in goals, with six so far. His pace and movement has been a key contributory factor too, helping his fellow front men, Roberto Firmino and Philippe Coutinho, weigh in with five goals apiece. All three are capable of inter-changing positions, leaving defenders guessing as to their next move.
The 'normal one' will argue that he hasn't done anything extraordinary but getting the best out of players previously under-rated or cast to one side, is the sign of a top-class coach. Under Klopp's guidance at Borussia Dortmund, Mats Hummels became one of the best central defenders in the world and earned himself a five-year move to Bayern Munich in the summer.
Liverpool, of course, have been here before and fans are sensibly keeping a lid on expectations. But in what would appear to be the most open season there has been for some time, the Reds seem to have as good a chance as anyone of lifting the trophy come the end of the season. January is shaping up to be a crucial month. The African Nations Cup will see them lose Mane and Klopp might take it upon himself to bring in an out-and-out striker before the January transfer window closes.
The defence is also a slight concern. While the six goals they put past Watford attracted a load of plaudits, the concession of a soft goal in beating woefully out-classed Watford 6-1 was perhaps more important in the overall scheme of things than the fact they had 17 shots on target – the highest number since Opta began their stats in 2003. Even though the game was won at that stage, such lapses in concentration could prove costly down the line, when the pressure is on and the odd dropped point here or there can make a world of difference.