Liverpool, perhaps more than any other, is a club founded on tradition, history, past glories – and heroes. Steven Gerrard's return to these shores and the subsequent rumours that he will take up a role at the academy, have highlighted our need for someone to look up to, to turn to when things are going wrong, and yes to idolize. But where are those people willing and able to step up to that role in today's squad?
Taking five legends (at more or less random) one thing jumps out immediately:

Ian Callaghan – LFC career 16/04/1960 – 29/3/1978 number of LFC games – 857
John Toshack – LFC career 14/11/1970 – 27/02/78 number of LFC games – 247
Kenny Dalglish – LFC career 13/08/77 – 1/05/90 number of LFC games – 515
Robbie Fowler – LFC career 22/9/93 – 13/05/2007 number of LFC games – 369
Steven Gerrard – LFC career 29/11/98 – 1/07/2015 number of LFC games – 710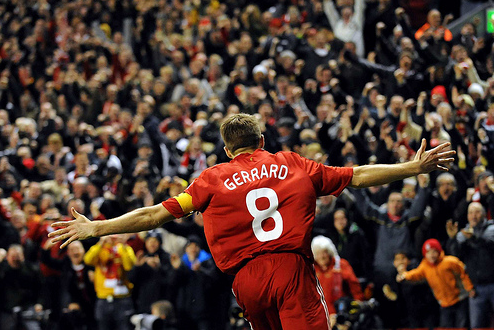 "2580 1590910DI UEFA CHAMPIONS GERRARD" (CC BY-SA 2.0) by terceroinfmiralcamp
The sheer length of time that these players were at the club is remarkable, especially in today's game. Stevie G was exceptional in many ways, but you have to think that the time that a player spends practically their whole career at a club – particularly at this club – may be a thing of the past. For this to happen, we first have to continue to produce players of sufficient quality that they add real value to not just the squad but the starting 11 season after season. This is a whole other issue, one revolving around scouting and the current state of the academy and is an article for another day. It is a two way street though. In order to keep a world class player on our books, we need to offer him something over and above simply a six figure weekly wage and the unique Anfield atmosphere. We need to be winning trophies or at the very least we need to be in with a realistic chance of winning them.
It is starting to feel that we may be going in the right direction, and going there with enough momentum, drive and energy to actually achieve something. Paddy Power have us odds on to get into the top four and in Jurgen Klopp we have a leader who can mould a dynamic team in his own image.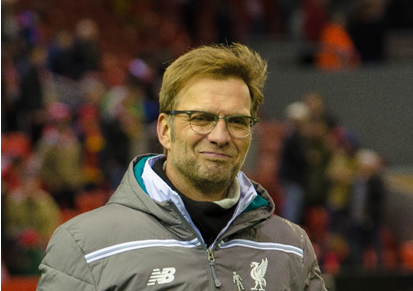 Source: Wikipedia
When you look at the current side however, is there really anyone who will live on in the minds and hearts of today's supporters and be talked about by future generations? Presently Coutinho is probably the only one who comes close, but there is always the question of how long someone like the Rio born midfielder will actually ply his trade at Anfield. Outside of him, there are a dozen or so solid/talented/very decent players, but hand on heart are there really any that could take on the mantle of hero?
It is nice to be able to buy the best players in the world and see them pull on the red jersey but how much nicer is it to have one of "your own"? From grapevine talk that there may be someone special in the youth ranks, to seeing him run on for his debut in an evening cup tie, it is an unforgettable experience, and most importantly one that the whole club – fans 'n' all, can take part in. That is why Ben Woodburn's emergence could be so key to this team's, this squad's and even this club's future.
Ben is not the only bright spark in the current crop of youngsters, and the last thing we want to do is put any more pressure on the lad's young shoulders. Like everything in life, it is about having a balance, a team where the best players from South America, Africa and Europe combine seamlessly with those brought up in Norris Green.