Manchester United vs. Liverpool: Match Preview
Liverpool, in recent weeks, haven't been as scintillating as we have been throughout most of the season and that – in my opinion – is down to three big players we have been missing; Joel Matip, Phil Coutinho and Jordan Henderson.
Good news, everyone! The trio did train on Thursday and are expected to make their awaited return against Manchester United this weekend but Jurgen Klopp has said that there needs to be some assessment in regards to the starting eleven.
We can't overplay the importance these players have in our squad. No matter what you think of Henderson, it's clear that we play much, much better when he is in the heart of our midfield and, until we sign Sergio Busquets, he's the best we've got and he's actually pretty damn good. #rantover
This weekend has saw all of our rivals gain points – so much so we kick off at Old Trafford in fourth place, now behind Spurs and Arsenal, as well as Chelsea. A win would mean we nestle back in just beneath Chelsea, a draw would have us sit behind Spurs on goal difference and a loss (God forbid) would mean United go within two points of us and give Manchester City a chance to leapfrog us and knock us out of the top four.
It's an important game.
Actually, it always is. But this time around both sides are going to be screaming for the win. The last time the sides met – at Anfield – Jose Mourinho parked his big, stupid, red and black bus in front of the goal and we couldn't do anything about it.
This time around Jose is going to want to get all three points but that means United are going to be opened up at the back – I think it's going to be the best North West Derby we've seen in a while.
For the neutral anyway, I'll probably faint or break some furniture before the 60-minute mark.
Team News
Coutinho made his first appearance since November at St Mary's on Wednesday, replacing Gini Wijnaldum with half an hour remaining and showed loss in sharpness from his lengthy absence through an ankle injury.
Matip and Henderson did not feature in Liverpool's 1-0 defeat on the south coast but have been training in the week and are expected to return against United.
In his press conference to preview the heavyweight Premier League clash, Klopp said:
They all were in training yesterday, so [we have] to wait on how they reacted to the training yesterday then we have to make decisions.

The last game was only two days ago and so we have to wait for the reaction of those players, too, and then we make a line-up.

But of course they are much closer than they were before any other game in the last few weeks, so that's good."
United are in relatively good health, with only James Wilson set to be on the sidelines for a number of weeks.
Zlatan Ibrahimovic and Marcos Rojo are slight doubts for the game, with Zlatan falling ill and Rojo having recently suffering a muscle injury. I do doubt the sniffles will keep Ibra out of the game though, he's probably only got a few more relevant fixtures left in his career.
Current Form
Liverpool (last six results in all competitions) –
Southampton 1-0 Liverpool
Liverpool 0-0 Plymouth
Sunderland 2-2 Liverpool
Liverpool 1-0 Manchester City
Liverpool 4-1 Stoke
Everton 0-1 Liverpool
Manchester United (last six results in all competitions) –
Manchester Utd 2-0 Hull
Manchester Utd 4-0 Reading
West Ham 0-2 Manchester Utd
Manchester Utd 2-1 Middlesbrough
Manchester Utd 3-1 Sunderland
West Brom 0-2 Manchester Utd
Six in six for United there, it's time for Klopp's Reds to take them down a notch and put ourselves back where we belong, too, in the process.
Below is a graphic showing Liverpool and United's head-to-head statistics at Sunday's venue –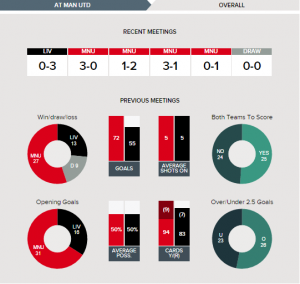 Stats courtesy of www.kickoff.co.uk
Prediction
Blimey, how do you predict this game? The biggest game in British football and, for me, the biggest game in world football.
United are going to be up for it – Liverpool are going to be up for it. Unfortunately, we aren't at the red cauldron that is Anfield and United have the home advantage.
As the visitors, we have to hope David De Gea has an absolute wobbler because, on his day, he is unbeatable but he does tend to have the odd clanger in him.
Granted Henderson and Matip make the cut, along with Coutinho, it's sure to be a good performance from Liverpool – back to our dominant selves.
I think this game will be our biggest test of the season so far – with maybe a slight exception for City; we managed to get Chelsea and Arsenal when they weren't playing their best. There will be more difficult games later this season but playing United right now is dangerous.
Ibrahimovic is likely to make the game on Sunday and he will be looking to continue his fine form against Liverpool with his partner in crime – Paul Pogba.
It's difficult to call this game – to be honest, I find it hard to call any Liverpool game – but I think there will be goals from both sides.
I'm not supremely confident but I think Klopp will know how to beat an attack-minded Mourinho, so I think Liverpool will snatch the game and humble United in the most superb fashion – by scoring a "Fergie time"-esque goal.
To clarify, I think the scoreline will be Manchester United 2-3 Liverpool.
If you'd like to strongly disagree with me or remind me of what I've written, when United park the bus at Old Trafford and win 1-0 through an Ibrahimovic header, you can find me on Twitter – @StefanoHairon