Liverpool vs. Everton: Match Preview: The Merseyside Derby
Alright, Reds? I've got some funny things to tell you.
1. Everton haven't beat Liverpool in seven years.
2. Everton haven't beat Liverpool at Anfield since 1999.
3. Ben Woodburn was born in 1999.
Just to put that into context, since Everton last won at Anfield, Woodburn was born, joined Liverpool's academy, got promoted to the first team, made his debut, scored against Leeds in a quarter-final and has been called up to the Welsh national team.
Mental, that.
Now you're all thoroughly amused, let's get into the proper preview.
I can't recall the last time that a Premier League Merseyside Derby meant so much to both teams; a win for Liverpool means going into the final games in a fantastic position to secure Champions League football but points for Everton mean they gain crucially on the clubs surrounding them in their race for European football.
It's a big, big game but, luckily for Liverpool fans, history suggests that a loss for the Reds is extremely unlikely. Given both sides recent form, however, it's shaping up to be one of the better Merseyside Derbies of recent years.
Soon-to-be-former Everton striker Romelu Lukaku has been in irresistible form of late, scoring nine goals in his last six games for the Blues and he even scored while on international duty last week.
The man is on fire and Liverpool don't currently have a forward who can match his goal-scoring capability.
Luckily, for Jurgen Klopp, Liverpool have had 13 different goal-scorers in the Premier League this season but Sadio Mane and Roberto Firmino are our most reliable attackers, grabbing 21 of our 60 League goals thus far.
Liverpool are going to need to up their game, but, as we've seen against our rivals, when we the big dogs come to town, we are more than capable of matching their bark.
Team News
Let's get this one out the way because it's annoyed you, it's annoyed me and it's annoyed Klopp; Adam Lallana was injured while on international duty as Gareth Southgate thought it'd be a laugh to keep Lallana on the pitch after realised he was carrying a minor injury.
Now, he's out for about a month. Cheers, Gareth!
Daniel Sturridge and Jordan Henderson are set to make their returns to the Liverpool squad against Everton, although I wouldn't hold your breath on either starting.
Besides that, Liverpool have got a clean bill of health – if we disregard the long-standing injuries of Danny Ings, Adam Bogdan and Ovie Ejaria.
However, it's been a nightmare for Everton.
I'm sure we've all seen Seamus Coleman's unfortunate leg break… I'm not being sarcastic either, I'd always want our rivals' best players to miss games against us but with, like, a bruised coccyx or something, not a devastating injury like a broken limb.
So, yeah, he won't be playing at the weekend.
Also injured for the Blues are Ramiro Funes Mori, Morgan Schneiderlin, James McCarthy and, obviously, Yannick Bolasie and Mo Besic.
It's confirmed. Funes Mori can't play tomorrow. Liverpool strikers breathe a breath of relief, they won't get assaulted.

— Steven Carson (@sigsgomento) March 30, 2017
Liverpool have a great opportunity to give Everton a hiding; Gareth Barry is likely to start in the heart of the Blues' midfield and a youngster marking Philippe Coutinho in place of Coleman – Mason Holgate?
Current Form
Liverpool (last six results in all competitions) –
Man City 1-1 Liverpool
Liverpool 2-1 Burnley
Liverpool 3-1 Arsenal
Leicester 3-1 Liverpool
Liverpool 2-0 Spurs
Hull 2-0 Liverpool
Everton (last six results in all competitions) –
Everton 4-0 Hull
Everton 3-0 West Brom
Spurs 3-2 Everton
Everton 2-0 Sunderland
Boro 0-0 Everton
Everton 6-3 Bournemouth
Everton are in fine form but look at how they perform away from home… They haven't won away from home since January, beating Crystal Palace 1-0.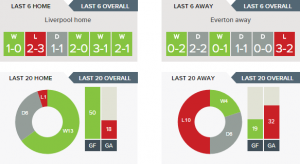 Prediction
My last prediction was bang on.
Liverpool don't have many issues when it comes to getting the ball into the back of the net, our problems come from that we can't keep the ball out of our own. Burnley do have a habit of snatching goals if you give them even a sniff at goal so I'd swiftly throw the idea of Liverpool keeping a clean sheet right out of the window. With that being said, I think the full time scoreline will be Liverpool 2-1 Burnley.
So I'm probably going to be a million miles off in this week's prediction, just to let the betting guys and gals know.
I think a weakened Everton, away from home, are going to be vulnerable at Anfield. However, I don't think Ronald "The Red" Koeman will park the bus against Everton's biggest rival.
Even though Klopp will be unable to select Lallana and it's likely Henderson will not start the game, a (likely) midfield trio of Emre Can, Gini Wijnaldum and Coutinho – or maybe Marko Grujic ? – will be able to overcome Everton's selection.
Everton's biggest threat is obvious. Lukaku. If Joel Matip can keep tabs on him throughout the game then Liverpool should be able to, mostly, nullify the visitors.
It'll basically be 90 minutes of when will Liverpool score? as Everton try to hold on to a point and counter attack. Let's face it, Lukaku will beat Simon Mignolet if he's given a chance.
With that being said, my prediction for the Merseyside Derby is Liverpool 3-1 Everton.
If you'd like to strongly disagree with me or remind me of what I've written, when Coleman scores the only goal of the game by throwing his dismembered shin at the ball, you can find me on Twitter – @sigsgomento