Liverpool Unveil New Kit & Crest to Mark Club's 125th Anniversary
It's that time of the year again — with the season winding down, football club's across the land are revealing their new kits for next season. The unveiling is always a big deal on Merseyside and with the club set to celebrate their 125th anniversary this June, there's a bit more pomp and circumstance with the new shirt sporting a commemorative crest as well.
"There is a huge sense of pride that comes with wearing an LFC shirt and it is always an honour, but this kit is special," said Reds captain Jordan Henderson, speaking to the club's official website. "Our 125th anniversary is a great moment for us all to celebrate our heritage and this kit really reflects that, especially as it features the anniversary crest," continued the skipper, before adding, "We'll wear it with pride."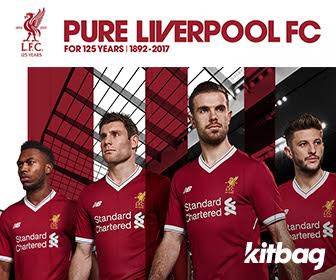 Returning to a classic, darker red design, the new kit incorporates tonal stripes and white pipping giving it a classier look than your standard football kit. Keeping things simple, the updated crest adds the "125 Years" milestone below and 1892 — the year the club was founded — and 2017, the date of our anniversary, on either side of it. In terms of design principles, less isn't always more, but in this case, New Balance has struck the perfect balance to turn out a timeless kit — and you should grab one right here.
"This kit is a testament to the periods and events that have made Liverpool FC the club it is today," said the General Manager of New Balance Football, Richard Wright. "This year's home kit is the perfect blend of heritage and modern technology, creating a look that is visually stunning and performs at the highest level."