Emre Can Is The Key For Liverpoool
Jürgen Klopp looks set to turn the tides at Anfield, and with Emre Can's stellar performances recently, it's only a matter of time before Liverpool return to glory days again.
Though fairly criticized for some of his more outspoken comments while in charge of the Reds, Brendan Rodgers was the one who first saw potential in Can. His statement about the youngster, two years ago, is seemingly coming to pass as the midfielder is gradually becoming of the best on the planet.
Having signed Can from his former club, Leverkusen, Rodgers boldly stated that the German player could turn out to become a world class if he continued playing. According to him, Can is an intelligent player with a lot of energy and speed and can comfortably play at any position around midfield.
Though the midfielder only got to play in certain positions during his first season at Liverpool, he quickly won the supporters over with his incredible display of strength and style. And with just one year left on his contract, his future at the club is still yet to be determined.
Manager Jurgen Klopp has revealed the player's desire to remain at the club but insists the situation might not be perfect with talks stalling over a new deal. Fans are also desperate to see the player commit his future to the reds.
In one of their recent games, Liverpool was able to tactically ouster Arsenal, with Can putting up a stellar performance in midfield. It was a possessive display by the home side, as they claimed victory from the Gunners with four unreplied goals. Even Arsenal's manager, Arsene Wenger made it very clear after the match, that his side was no match for the Reds.
From all indications, Klopp's team outwitted Wenger's side both tactically and individually. They obviously displayed greater strength and tenacity and were faster, a performance that could have originated from their pre-season preparations to advance to the group stages of UEFA Champions League. However, the manager claimed their early achievement has everything to do with the unity among the players, as well as their determination to prove themselves. This is something that was obviously lacking in Wenger's team as clearly seen in their humiliation at Anfield.
Without doubts, Liverpool was superior to their Arsenal counterpart, however, it was Emre Can's exceptional individual performance in midfield that hugely contributed to the team's victory over their opponent. Two other players who were really outstanding are Georginio Wijnaldum and Jordan Henderson. This was also the case when they defeated Hoffenheim in both legs of their Champions league playoff ties. We hope to see them replicate this form as they progress to the group stages.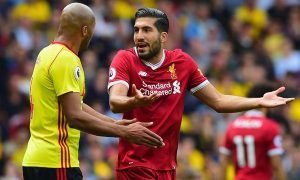 Though Can's future at Anfield is still unresolved, he is likely to play an important role in the team's premier league and Champions league campaign. Hopefully, Klopp will use him to his advantage, at least for his final season given his current contract, although the manager would want him to remain with the Reds.
In terms of individual development, many players have significantly improved their game since Klopp took over the management of the team. Emre Can is one of such players. He has fared well since the beginning of the year despite his challenges with injury last season. Sadly, the 23-year-old is yet to conclude on his role in the team and this has been one of the reasons why the signing of a new contract is still lingering.
Some big clubs are already showing interest in the Ex-Bayer Leverkusen midfielder, but as always, it's Juventus who are really pulling the strings to sign the German star. However, the Reds manager hopes the youngster will see reasons to commit his future at Anfield considering the current feat of the club and the opportunity to get better. Though Can has been calm about his role in the team, it's possible he's not pleased with the situation of things. For instance, playing offensively in the playoffs against Arsenal and Hoffenheim recently may not have gone down well with the midfielder, although he doesn't show any sign of displeasure.
Although Can's future still remains undecided, Klopp has made it clear he would prefer having the German midfielder around than bringing in someone else to fill his position. According to him, Can's ability to play in a different position is very important for the team. And he hopes the youngster will continue to improve his game like he has been doing if he decides to remain at Anfield after this season.
Can be really impressive last year and will hope to replicate the same form (this time without injury) this season. He looks set to exceed 100 league appearances for the Reds since 2015 when his former boss left.