Newcastle vs Liverpool – Match Preview
Liverpool and Newcastle games have always peaked my interest – typically the Reds and the Magpies often provide some great entertainment for the neutral fan and usually deliver three points to Liverpool.
When Rafa Benitez remained at Newcastle while in the Championship, it was practically confirmed that the Toon would only spend the one season outside of the Premier League and I, for one, am happy to see them back.
I miss Newcastle. Can we give you Sunderland now to have them back early, @SkyBetChamp?

— Steven Carson (@StevenCarsonNR) November 26, 2016
I don't believe in second teams – if they play in the same league – but if I had to choose one, like many other Liverpool fans, I'm sure, I'd choose Newcastle.
The two cities, clubs and fans are quite similar in that we know we're boss. I recently visited Newcastle and I fell in love with what I saw of the city and its people.
I've been all around Europe and Newcastle is the only place I'd consider moving to if I ever left Liverpool. Boss city.

— Steven Carson (@StevenCarsonNR) August 27, 2017
All that sentimental stuff aside for now though as I want to see Jurgen Klopp's Reds run riot over Rafa's Newcastle this weekend.
Liverpool's results have been abysmal of late…notice I said 'results'? Our performances have been fairly impressive but our inability to put the ball into the back of the net is becoming embarrassing.
Every week you've probably had that one mate in your ear suggesting "Liverpool will smash these here – we're due a few goals" but it just hasn't turned out that way.
How about we say it all together now? This time with feeling!
Team News
Liverpool are actually doing really well in terms of having a fit squad, only the usual suspects – Nathaniel Clyne, Adam Lallana and…uh…Adam Bogdan are unfit to feature.
On top of this, Sadio Mane is now available for selection again following his suspension which is sure to strike fear in the mind of this weekend's hosts.
Watch out, Rob Elliot.
Sorry.
Newcastle also have a man back from suspension as Aleksandar Mitrovic is once again available for selection, which strikes a lot of fear in my mind as we can't defend set pieces.
Current Form
Liverpool (last six results in all competitions) –
Man City 5-0 Liverpool
Liverpool 2-2 Sevilla
Liverpool 1-1 Burnley
Leicester 2-0 Liverpool
Leicester 2-3 Liverpool
Spartak 1-1 Liverpool
That's grim.
Newcastle (last six results in all competitions) –
Huddersfield 1-0 Newcastle
Newcastle 2-3 Forest
Newcastle 3-0 West Ham
Swansea 0-1 Newcastle
Newcastle 2-1 Stoke
Brighton 1-0 Newcastle
Prediction
Neither team are in great form but, oddly, Newcastle go into their fixture against Liverpool in better form than the Reds and they also have the home advantage.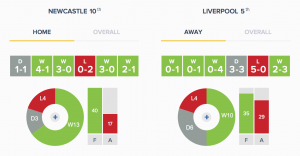 Newcastle have typically performed well this season at St James' Park and Liverpool are struggling in away fixtures.
To say I'm not expecting us to win 3-0 is quite the understatement.
Newcastle will score. I've accepted it already, we're allergic to clean sheets, but I'm also expecting Liverpool to out-score the Magpies this weekend.
I fancy Newcastle to score more than just the one and, as I mentioned before, Liverpool are "due" a few goals and i think this might be the game we get them.
At the full-time whistle, I think the score-line will be Newcastle 2-4 Liverpool.
Optimistic, I know. A rarity among Liverpool fans nowadays.
If you'd like to follow me on Twitter, you can do so here – @StevenCarsonNR.