Spurs vs. Liverpool – Match Preview
Off the back of their Champions League results, Liverpool and Spurs are both bound to go into this weekend's fixture, believing they will overcome the opposition.
Liverpool ran-out 7-0 winners away at Slovenia Champions Maribor and Spurs held Real Madrid to a 1-1 draw at the Bernabeu, one, for me, is more impressive than the other…but I'm not saying which.
It was just a matter of time before everything clicked for Liverpool and the Reds gave someone a hiding – and it was Maribor.
MARIBOR I AM SO SORRY BUT THIS HAS BEEN COMING

— Steven Carson (@StevenCarsonNR) October 17, 2017
Spurs put in a very Manchester United-like performance against Real; relying heavily on their superstar goalkeeper to ensure a decent score-line. Don't get me wrong, they done well but throw an average 'keeper between the sticks and take away the deflection off Raphael Varane and it's a very different story.
Team News
The rebirth of Alex Oxlade-Chamberlain in the Reds' two most recent games has come at the perfect time as Liverpool are without star man Sadio Mane – not that it mattered all that much in the Champions League – but don't have any new absentees in the first team.
After Joe Gomez's performance against Maribor, I do expect him to retain his place at Wembley…although I wouldn't be shocked to see Trent Alexander-Arnold start.
Spurs have a number of missing players, including Moussa Dembele, Georges N'Koudou, Ben Davies, Victor Wanyama and Erik Lamela.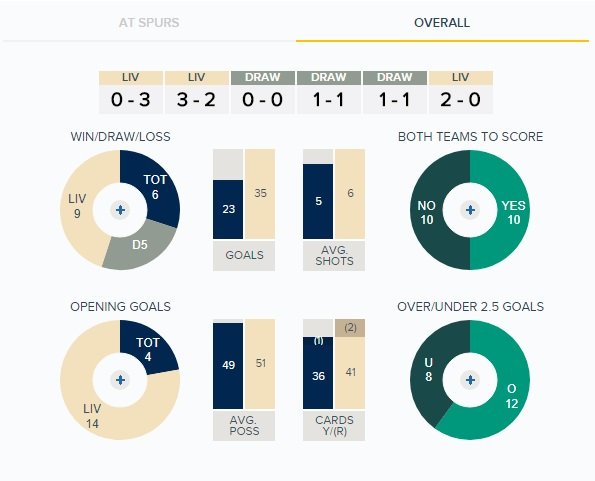 Current Form
Liverpool (last six results in all competitions) –
Leicester 2-0 Liverpool
Leicester 2-3 Liverpool
Spartak 1-1 Liverpool
Newcastle 1-1 Liverpool
Liverpool 0-0 Man United (the first game we showed some bottle in months)
Maribor 0-7 Liverpool
Spurs (last six results in all competitions) –
Spurs 1-0 Barnsley
West Ham 2-3 Spurs
APOEL 0-3 Spurs
Huddersfield 0-4 Spurs
Spurs 1-0 Bournemouth
Real Madrid 1-1 Spurs
Prediction
I have to admit, I'm not all that impressed by Spurs' form of late. Yes, they've done what Liverpool have struggled to do and actually get the results but they haven't looked all that convincing.
Harry Kane, yes; he has looked absolutely brilliant and could play for any team in the Premier League and would either improve them or keep them just as good.
The guy that Liverpool are going to need to keep an eye on is Christian Erisken – everything that Spurs do runs through him and everything they do well is finished off by Kane.
Jurgen Klopp will need to put his best man on Eriksen and hope he can stop most of what he creates.
Liverpool play a very high line as we don't like to play around with the ball in our half. I think that Klopp will look to do the same against Spurs and constantly apply pressure on their defensive players.
Getting the ball beyond Hugo Lloris will also be a challenge.
Going to Wembley hasn't been easy for Liverpool of late and taking on Spurs there this weekend won't change that.
It's going to be difficult but the Reds have started to click now and we're in good shape to play against an in-form team.
When the referee blows the full-time whistle, I predict that the score will be Spurs 1-2 Liverpool.
If you'd like to follow me on Twitter, you can do so here – @StevenCarsonNR.