Liverpool vs. Chelsea – Premier League Match Preview
Following an exciting 45 minutes and an equally abysmal second 45′, Liverpool are to face Chelsea at Anfield this weekend. Jurgen Klopp will be looking to rally his men into putting in a decent performance – for the whole 90 minutes this time.
The Reds may be relatively safe in their Champions League group but the Premier League is a different story; Klopp's Liverpool are already chasing the fourth – and final – Champions League qualification spot, with Spurs and Chelsea the team standing in the way.
A win for Liverpool means leapfrogging Spurs into fourth place but that would require West Brom to take points off the Lilywhites…and I think we all know how likely that is.
Spurs fans think they're title contenders – we're only four points behind them – and our fans think we're having an awful season.

— Steven Carson (@StevenCarsonNR) November 6, 2017
This weekend's fixtures actually presents a great opportunity for Spurs – and I'm sure they'll be hoping that Antonio Conte's Chelsea take a point away from Anfield on Saturday in their efforts to climb the Premier League table.
A win would mean Liverpool going level on points with Chelsea and, as I said, potentially jumping ahead of the queue in front of Spurs, meaning the three big north-west clubs make up the top three.
Here's hoping West Brom can do us a favour!
Team News
Emre Can has a muscular injury that could see him miss out but Adam Lallana might make his first appearance of the season after making a recovery to see him return to full training. "Adam is on the way. We have to see how we handle that," said Klopp.
I wouldn't hold my breath for this weekend being his return.
Joel Matip is also expected to miss out following a recent injury so either Ragnar Klavan or Joe Gomez will partner up with Dejan Lovren in the heart of Liverpool's defence.
My money would be on Gomez starting at right-back (and Klavan in the centre); he's played phenomenal of late but I don't think Klopp would trust Trent Alexander-Arnold to keep an eye on Eden Hazard for 90 minutes.
Former Liverpool man Victor Moses is a slight doubt going into the weekend, following a hamstring injury, and Chelsea's only other first team concern is that of Michy Batshuayi who is expected to be out of action for a while.
Plenty of time to tweet though, eh?! Probably the one thing I like about the guy since he signed for the Pensioners…
NOW WE TALKING ??? hahaha Many thx @EASPORTSFIFA !! injured time never felt so good ? who wants his ass kicked now ??? pic.twitter.com/xEOutTvpKb

— Michy Batshuayi (@mbatshuayi) November 21, 2017
Current Form
Liverpool (last six results in all competitions) –
Spurs 4-1 Liverpool
Liverpool 3-0 Huddersfield
Liverpool 3-0 Maribor
West Ham 1-4 Liverpool
Liverpool 3-0 Southampton
Sevilla 3-3 Liverpool
Chelsea (last six results in all competitions) –
Chelsea 2-1 Everton
Bournemouth 0-1 Chelsea
Roma 3-0 Chelsea
Chelsea 1-0 Man United
West Brom 0-4 Chelsea
Qarabag 0-4 Chelsea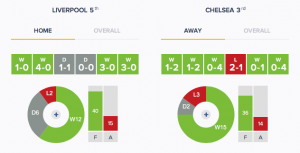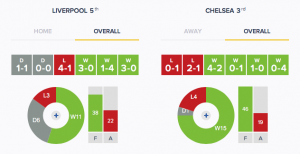 As per usual, thank you to www.KickOff.com for the graphics.
Prediction
Liverpool versus Chelsea is a contemporary battle of the colossus and it's always very difficult to predict the outcome so I'm not going to spend much time trying to.
Form suggests that the Reds and Blues will cancel each other out and it'll be a 3-3 or 0-0 result but it never goes the way you'd expect.
Chelsea and Liverpool hate one another and we'll see that again this weekend but I predict a slender win for Liverpool – I'm sure that's what Mo Salah is thinking too.
Let's say Liverpool 2-1 Chelsea.
If you'd like to strongly disagree with me or remind me of what I've written after Liverpool lose 7-0, you can find me on Twitter – @StevenCarsonNR.