Klopp said Liverpool players are motivated by fans not by 'Holy Grail' of title win
Liverpool manager Jurgen Klopp has said that his players have done an incredible job this year and have been able to do so thanks to their fans. The German went on to add that his players are not motivated by the 'Holy Grail' Premier League title but by the supporters.
Liverpool is getting hot and it is not just because the summer is getting closer. The Reds have failed to win the title since 1990 and now are within few weeks from potentially making club's history. In the last weekend, they were able to defeat Cardiff for 2-0 and as a result, they have moved 2 points clear of Manchester City who have a game on hand.
Most best betting sites in the UK believe that Liverpool can finally win the Premier League and we have asked BestBettingSites.Online editor in chief John Pentin what is the reason for that: 'I think Liverpool have a fantastic chance. If we look at the features that they have left and compare those with Manchester City we can see that the Reds have an edge. The Citizens have looked a bit shaky in recent games and the elimination from the Champions League is a massive blow for Guardiola's club which might have some reflection on the league.'
'Liverpool at the moment are in great form and I just don't see who can stop them. They have a fantastic chance in my opinion to win the double this season as even if Barcelona are a great team, this Liverpool side is a stronger unit if you look department by department.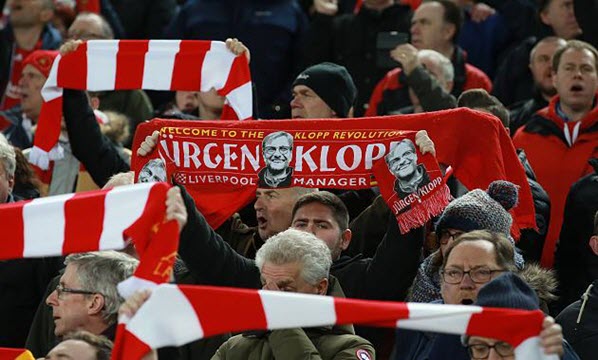 Klopp said that if you are motivated just to win the Holy Grail, there is something wrong. He said that they want to keep winning football games as they do enjoy the ride with the fans and feeling something great is being done.
After a rather blocked encounter in the first half, it was Georginio Wijnaldum and James Milner that gave Klopp's side the deserved three points in Cardiff. Liverpool have now reached their records points in a season (88).
Klopp said that in the end they will see how many points they have made and see in what position they are. All his players are motivated to continue to win games and they do have no influence on what will happen elsewhere. He said that they will have to focus on the next game that will be against Huddersfield and that will be challenging for several reasons.
The German also said that despite many people thinking that they are already looking forward to the Barcelona's game, the team is fully focused on Huddersfield for now.
Klopp was disappointed that Cardiff didn't watered the pitch during the game but he said that his players were prepared for this situation. He said that it was clear to everyone that the ball wasn't rolling normally. He also added that dry pitches can be dangerous for players as can cause injuries but that they were prepared as they trained on a dry pitch to get used to it before heading to Wales.