A few alternatives to Jude Bellingham for Liverpool
While Vladimir Smicer is tipping Steven Gerrard to replace Jurgen Klopp when the German boss does eventually leave Liverpool, there is a strong argument to suggest that the former Anfield hero's midfield void still hasn't been filled.
Of course, Liverpool have recorded notable success since Gerrard's legendary career with the club, but have fans been treated to the type of midfield performances that "Stevie G" used to put in on a regular basis? In short, despite having a number of talented midfielders in recent times, none of them come to close to Steven Gerrard. Step forward, Jude Bellingham.
The Birmingham City academy graduate is a long-term target for Liverpool. In fact, it's common knowledge that Liverpool's hierarchy has been holding informal discussions with a view to making a permanent move for Bellingham in the summer.
According to reports, though, Liverpool aren't the only side in for the Borussia Dortmund and England midfielder, with the likes of Manchester City, Real Madrid, Paris Saint-Germain and Chelsea all showing an interest in one of world football's shining lights. As such, confidence in landing Bellingham is at an all-time low.
Although all parties associated with Liverpool, from the players to the fans, would love to see Bellingham in a Reds shirt next season, there is a strong possibility that he opts for a move elsewhere. Turning out for Liverpool is certainly one of the best career moves a player can make, but should a European behemoth like Real Madrid make a move and the financial power of Manchester City eventually come to the fore, then Jurgen Klopp could easily miss out on his key target.
Make no mistake about it, though, a signing like Bellingham takes Liverpool up a level, especially in such a key area of the pitch. Right now, according to Premier League odds, the Reds are priced at 50/1 to win the Premier League, with the likes of Arsenal at 9/4, but the signing of a star like Bellingham would make Liverpool one of the favourites for next season.
Competition for Bellingham's signature is worryingly strong, though. Should Liverpool fail to land what is a long-term target, let's take a look at some solid alternatives. Sadly, for Liverpool fans, Bellingham might be out of reach, especially if Champions League football isn't secured.
Moises Caicedo has impressed for Brighton this season
Although Moises Caicedo isn't the fashionable signing many modern-day fans crave, his all-round game makes him a solid contender for a place in Liverpool's all-important midfield. Along with his ability to evade the opposition press, Caicedo is a tidy ball player who is capable of dictating play, but also providing a physical challenge for any of his midfield opponents.
Jude Bellingham he is not, but given Jurgen Klopp's history of developing promising players, he could easily turnout to be an even better acquisition in the long-term. Aged just 21, a big side will surely take a punt on the Ecuador international soon.
Enzo Fernandez's stock is rising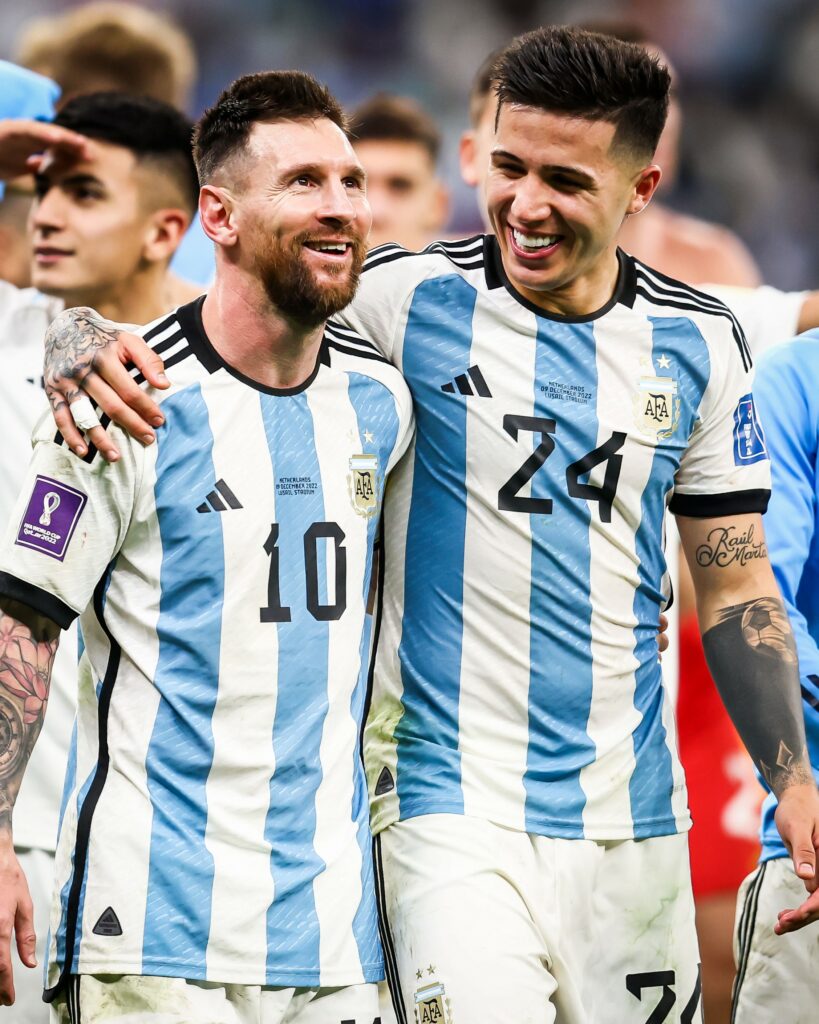 After helping to deliver Argentina's first FIFA World Cup trophy in 36 years alongside the likes of Lionel Messi, Enzo Fernandez's stock is continually rising. The Benfica star is currently one of the most in-demand midfield players in European football, with the 21-year-old talent showcasing his potential to turn into one of the top midfielders in world football in the next few years.
Like Bellingham, though, Liverpool won't be the only side in for Fernandez should he decide to leave Benfica, or a side meet his reported €120million release clause. The likes of Real Madrid and PSG are already circling.
Pedri might fancy a Premier League move
Pedri is undoubtedly one of the world's best talents, but there are rumours suggesting that he could be tempted to move to the biggest league around should Barcelona fail to deliver a trophy this season. Pedri's transfer fee would be enormous, and although it does seem like a pipe dream, Liverpool would surely be in for the immensely talented 20-year-old should be decide to ply his trade elsewhere.