Edinson Cavani: The Matador
(Video by impressive compilation guru MrEuro14).
Okay, okay! The chances of 'El Matador' signing for Liverpool in this transfer window – or ANY transfer window – are virtually non-existant (Revision – particularly after Kenny Dalglish has declared there will be no senior transfers in this window). So this article won't be at all about that (even though Liverpool have officially asked Napoli about his availability, according to CNN Italian Correspondent Tancredi Palmeri).
Besides the fact that the 24 year old Uruguayan is one of the most highly coveted forwards in Europe and would seemingly have his pick of clubs if and when Napoli decide to cash in on his astronomical value (€40m according to Sports Illustrated Soccer Editor, Jen Chang), there is also the Aurelio De Laurentiis factor to consider. One of the sharpest operators in the football transfer business, Napoli's fearsome President gets what he wants, always. And what he wants, is €40m and not a penny less, for the services of Edinson Cavani. There will be no haggling, bargaining or negotiation. Landing this guy would be the football transfer equivalent of harpooning Moby Dick – and possibly just as suicidal, from a financial perspective. So hopefully we are clear: getting Cavani would be extremely difficult, and I'm not linking him to us in any other way – this is purely speculation.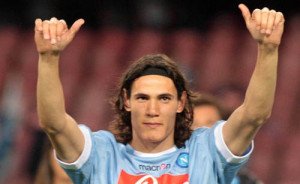 With the disclaimer now out of the way, let's discuss Cavani purely from a footballing perspective. Would his strengths and skills suit Liverpool's style? As we've learned from the Andy Carroll saga, style can be a bigger chasm to bridge than culture or language, and any player costing such an exorbitant amount needs to be able to adapt quickly. Intelligent, skillful players adjust quickly, as do players who show determination and work hard to establish themselves. Little wonder Cavani's compatriot Luis Suarez has become a Liverpool icon in such a short period of time.
Qualities
Edinson Cavani is similarly gifted and resilient. His movement is relentless, a perpetual-motion machine that hunts space in the penalty area, commits defenders and exploits their mistakes intelligently. He works back ferociously to win the ball and is happy to take up positions on the flanks if it benefits the team in playing out of defence. Statistics website Whoscored generates a list of strengths and weaknesses for teams and players derived from their match statistics. Cavani's strengths are Finishing, Holding on to the ball, Headed attempts and Defensive contribution. His only weakness is Passing, although this is a function of Napoli's high-speed counter-attacking style of play, in which Cavani is predominantly the spearhead.
Napoli's Style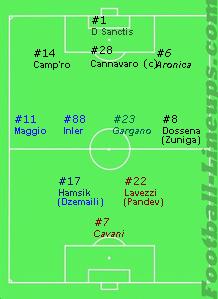 Seen here in their typical 3-4-2-1 formation, Napoli specialize in fast-breaks and through-passing, as Manchester City learned the hard way in their Champions League group earlier in the season. Particularly interesting is the structure of their 3 man forward line, that sees Cavani profiting from super speedy wing-forward Ezequiel Lavezzi and talented attacking midfielder Marek Hamsik. With both players eminently capable of scoring goals themselves, Cavani is not necessarily the focal point, and he regularly benefits from the chaos caused by his support forwards. Also worth a mention is the delivery from Napoli's wingbacks Maggio, Dossena (yes, THAT Dossena) and Zuniga, who make up 3 of Napoli's top 4 crossers. There is no end of quality supply for Cavani at Napoli, with an astonishing 51 goals coming from 72 matches in just a season and a half for the Partenopei. The team is geared around direct passing, rapid movement and putting accurate balls into the area, either crosses or cutbacks. Cavani clearly thrives in this kind of system, with this kind of support.
Statistics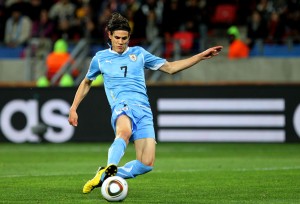 Edinson Cavani has taken 184 shots in Serie A games for Napoli in his 2 seasons there, scoring 38 times in the process. While it's a slightly cumbersome measure, this gives us a finishing percentage of 20% (1 goal from every 5 shots), well above the finishing percentage of our own strikers. He passes 21.4 times per game, at an accuracy of only 68.4%. While this is quite a low figure in passing accuracy, it is not out of the ordinary range for many pure centre-forwards, particularly those playing in direct, quick-passing sides such as Napoli. His fitness record is outstanding, rarely missing games through illness or injury.
Noteworthy Facts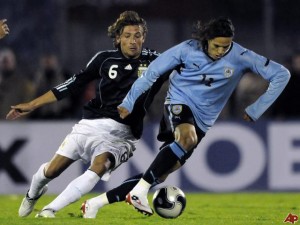 Cavani has Italian grandparents, ensuring he is eligible for a work permit in England regardless of his selection for the Uruguayan National Team. Thank you, European Union. Despite his prowess in front of goal, Cavani has been behind Luis Suarez and Diego Forlan in the pecking order for Uruguay, although one suspects that he will replace Forlan as Suarez' partner in due course. Cavani was born in Salto, the same town Suarez and supposed LFC target David Texeira also come from. Must be something in the water there!
Verdict
There's plenty to like about Edinson Cavani. He's capable of leading the line alone, as he does for Napoli, or partnering Suarez, which he does on occasion for Uruguay. He's mobile and technical enough to play off Andy Carroll and makes the kind of runs that bring the most out of Andy's flicked headers. He can even play as a wing-forward in a front 3, as he did at in the opening rounds of Uruguay's successful Copa America campaign in 2011.
Most of all, he's a goalscorer. He finishes with his head and either foot, counters quickly, attacks crosses and finds space in packed penalty areas. He can shoot powerfully from distance, or stroke the ball into the corner. He can dribble too, although he only utilizes his ball skills when close to goal.
Of course he is good enough for Liverpool, and despite what others may say, we are big enough for him. At the end of the day, it comes down to price and our business plan under FFP. If there's room for a €40m (or £33m) striker, we should bite the bullet. And if we have officially inquired about his availability, while knowing the price, then perhaps a move is possible after all.
This is Liverpool Football Club. We can always afford to dream.
-Grubb-

P.S. Read all that? Reward yourself with another video below. And don't forget to like us on Facebook or Tweet this to your followers. Cheers!

Video by BMartovskyiHD