Solving the Suarez Problem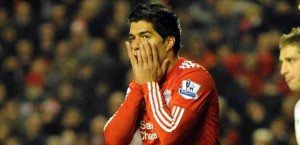 This article is NOT about handshakes, racism, tribalism or morality in football. I'll leave the meaty topics like them to my esteemed colleagues here at Paisley Gates. Or people like John Barnes, far better qualified and positioned to speak on such issues than I.
Nor is it about selling Suarez – an idea I find laughable at present, but one that could nevertheless still become reality if controversy continues to follow Luis and his ultra-competitive consequentialist on-field demeanor. Instead, this article is about embedding Luis in a winning team, finding the balance of personnel and tactics that will see both the club and player flourish – a combination likely to minimise bad news days at LFC in future. Indeed, with two cup fixtures on the horizon (including our first final appearance since the Nightmare of Athens in 2007) the opportunity is there to begin to forge an identity of our own choosing. The light of victory always reflects well.

So what do we do to win these two cup games? How do we get some positive press for our maligned forward duo, Luis Suarez and Andy Carroll? Can they actually play together? What does that mean for the tactical formation and shape of the team? Can we maintain our comparative success with 4-3-3 and still field both players?
We Must Go After Our Opponents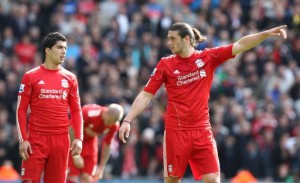 Andy Carroll and Luis Suarez must start together, against both Brighton and Cardiff. Individually they have features that make them extremely difficult to play, and with Carroll's link play finally in evidence, the likelihood of a successful partnership (against theoretically weaker opposition) seems higher now. With Brighton offering a reasonable challenge earlier in our Carling Cup journey, our FA Cup clash against them at Anfield provides the perfect opportunity for us to work on the Suarez-Carroll combination, while also hopefully clearing the logjam in front of goal that's been keeping the scorekeepers untroubled so far this season. We need purpose, controlled aggression, confidence and meaningful dominance to succeed, and we need them right from the first whistle.
Shape is Less Important Than Movement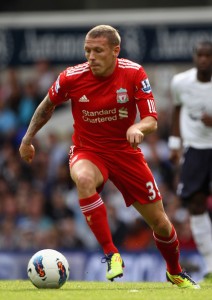 Whether or not we play a 4-3-3 variant or a 4-4-2, movement is the key to success. When we move well, we play well. In our recent 2-1 loss to Manchester United, the sight of midfielders raising their arms in frustration at the lack of forward passing options was all too regular. The movement ahead was too pedestrian, too one-dimensional. Suarez looked to get in behind, but the early ball was never released, and he never managed to find space anywhere. Andy Carroll changes that dynamic. While his movement isn't top level (yet), he draws defenders to aerial contests they can't win, or forces them to guess a position where they might be able to intercept his flick-ons. Provided players are running the channels in anticipation (a la Kuyt versus United at Anfield in the FA Cup) this can create a lot of space for clever, busy players, like Bellamy, Suarez and Kuyt to exploit.
For me it's a foregone conclusion that Craig Bellamy has to start, particularly against former club Cardiff at Wembley. He not only adds a vital blend of pace, experience and desire, he also brings far more avenues to goal than any other player we have. Fast breaks, poachers' goals, long-range potshots – Bellamy scores them all. He's also the best direct freekick taker at the club bar none. His delivery from corners is consistently good, and he's intelligent enough to swap positions with Suarez seamlessly when the Uruguayan takes up a wide position. More than most, Bellamy is desperate to win something – and now possesses the maturity to see it done right. Maybe too Luis Suarez could learn something from Bellamy on taming his own "inner chimp".
Don't Underplay Midfield Control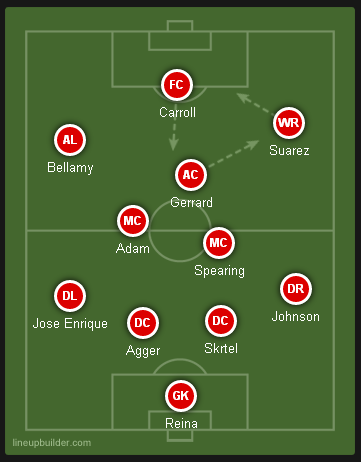 While I think we will probably see a 4-4-2 for long stretches in both games, either by design or by the default shape that Suarez' presence seems to give to the forward line any time he plays with Andy Carroll, I think serious thought should be given to securing and dominating the midfield.
Even the thought of a partnership of Adam and Gerrard terrifies me, with neither suited to protecting their defenders as a primary role. Spearing and Adam give the deeper midfield a good range of passing, provide reasonable balls forward, and should have the ability to control their opposition at this level.
That combination would also set Gerrard free to occupy an attacking midfield role. This would mean Suarez starting from a nominally wide right position (his best in my opinion), but his natural movement inside towards goals would be counter-balanced nicely by Gerrard's tendency to drift to the right flank, looking to whip in a cross or play Johnson in behind the opposition fullback.
Essentially their movement converts a 4-3-3 or 4-2-3-1 into a 4-4-2 in attack, as represented by the movement arrows on the formation diagram.
Jordan Henderson and Dirk Kuyt may need to content themselves with substitute roles in both matches, as might Stewart Downing, who has cut an increasingly forlorn figure during his difficult first year at Liverpool. Hopefully, by the time any of them see any action, both matches have already been well and truly won.
-Grubb-
Give us a Like on Twitter, Follow us on Facebook. Go against the grain!