Pesky Seagull's Looking To Live Up To Their Name
For those of you who haven't had your memory erased by incessant drinking, a severe lack of sleep and Whitney Houston gossip, you might remember the last time we met Brighton and Hove Albion. It was in a month that I like to call September and a competition wistfully referred to as the Carling Cup; or League Cup for you purists in the crowd. This time, it's going to be the FA Cup as the Seagull's make their way to Anfield on Sunday. I still remember our last match like it was yesterday. Actually, I don't. Guess they weren't all that memorable.
We might be keeping one eye on our trip to Wembley next weekend, but it's polite to remember the route we took to the big dance. Before we had a chance to be King of the Prom, we had to dance with a few heffers; Brighton and Hove Albion was one of them. Although we ran out 2-1 winners that night, Gus Poyet's side gave us more than one tense moment as the Reds turned in a less than impressive performance that left us lucky to progress. According to Jamie Carragher, the squad might have forgotten the Championship side came close to claiming a significant scalp, but the wiley Scouse defender won't be taking any chances, if he plays, with progression to the next round of the FA Cup on the line.
The vice-Captain has been on the outside looking in since picking up an injury in October, and our new central defensive partnership has given Kenny no reason to give him a sniff of first team action. Legend or not, the team comes first. Daniel Agger and Martin Skrtel have helped Jose Reina stay in the race for the Golden Gloves while cementing their place in the squad. Cup matches against lower opposition have traditionally been an excellent chance to give fringe or youth players a run in the first team, so who's usually in the squad isn't always applicable.
Many will argue that Dalglish should be playing his strongest eleven, but as time ticks on it's becoming apparent that the Reds don't have a true first team; not in the classic sense anyways. While it may look like Rafaesque tinkering, it's hard to tell if Kenny is picking the team based on the opposition or shaping his squad for next season. The inclusion of Stewart Downing over Craig Bellamy at Old Trafford this weekend was heavily criticized when the out of form Englishman went missing during the 2-1 defeat. If he starts, Stewart hopefully won't have the same problems against the 'Gulls.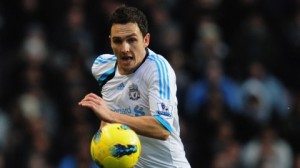 This season, cup matches have been where we've found our real joy and Sunday should be no different. When your league form isn't up to snuff, it's satisfying to put it behind you for a one off match where all that matters is the outcome. No need to look at the bigger picture, just one thing to focus on and for a change. Well, you can make that two things if you want to lump in a certain Uruguayan.
Last weekend, and in the subsequent days after, the focus was more on Luis Suarez than anything happening on the pitch. The fallout from his latest go around with controversy has prompted even more debate about whether the talsmanic striker is worth the black clouds that follow him around. Fellow blogger Grubb discussed the debate from a more on-field, tactical perspective right here which was a breath of fresh air considering the phish that came before.
While we all expect Kenny and the boys to navigate what should be an easy win, nobody expects it won't come without its fair share of bumps along the way. We've never been known to do things the easy way, and if the same Brighton team that gave us a scare in September shows up, we could be in for a problem or two. It would be gratifying to go big this weekend and build some confidence going into the Carling Cup final next weekend, but I'll settle for no injuries and a quiet route to the next round.
-steven.