There's Been Borders and There'll Be Boundaries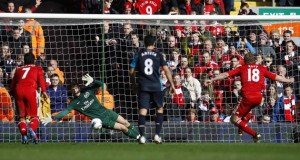 Had this been the first match of the season, it wouldn't have mattered. Having Arsenal end your unbeaten home streak with an injury time goal from a blazing hot Robin van Persie would hardly register on the radar. The penalty miss, hitting the woodwork and Martin Kelly spooning a sitter would be chalked up to nothing. A bad day on the park. Had it been one month in, you'd be ruing the dropped points. In November if you're creating, but not converting, you know there's a problem. Six months, and our dominance could have amounted to so much more. By the time it's March and your season has been built on days like today, you start to give up.
It's not a knee jerk reaction if you never expected to win in the first place. A marathon Carling Cup final coupled with a midweek international friendly and a number of key players picking up injuries was always going to make this one harder than it needed to be. Then again, we've a bit of a history of doing just that, only with one distinct difference. We used to win them, didn't we? This race for 4th place and the final Champions League spot has become a bit of a farce as we now sit 10 points adrift of Arsenal who are cementing themselves in for the long haul.
People set unrealistic goals all the time. On some unconscious level we know what we're aiming for is unattainable, yet setting a more easily available target lacks any sense of flair or panache. At the beginning of the campaign, and up until today, we were shooting for Champions League qualification. Fourth place in the league and a route back to the big stage. Was it possible from the outset? Sure, it was. As hope and positivity take hold, we believe we can do more while there was truly only a outside possibility we were going to make it.
With the new signings taking longer than expected to bed in and the feeling of transition around the club as we settled into our first full season under the ownership of FSG and the management of Kenny Dalglish. Champions League football may seemed so easily attained, when it was really just another pipe dream; but were we going to aim any lower?
Instead, should we of just hoped all the players had a good time? Not to be relegated? As long as we finish above West Brom we'll be alright? Without a clear signal of intent of the managements desire to bring us back to where we belong, the club falls short of fulfilling the aspirations of the players and the fans. No one wants to hear this is another year of building; of learning and adapting. We want success and we want it now. Still, this is reality. What we want or think we should be able to accomplish doesn't always apply.
Trust in Kenny.
-steven.