Black Cats Are Lucky, Right?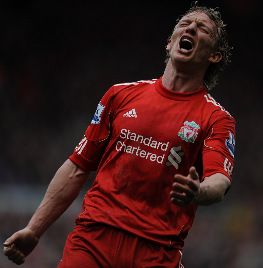 Luck has been the buzzword in the aftermath of our confusing 2-1 defeat to Arsenal, where we dominated so many aspects of play. Either neglectfully or unluckily, we failed to capitalize on the plethora of chances we had. Missed penalties and muffed clear cut chances are continuing to pile up, while the club, players and fans find themselves in disagreement over the cause of our woeful finishing or outrageously poor fortune: whichever of those is actually to blame.
Regardless of causality, the points keep slipping away, defiantly waving two raised fingers in the direction of our pretty passing patterns and positional dominance. All of which now makes the task of qualifying for the Champions League almost impossible, regardless of our easyish run in to the end of the season in the Premier League, which begins this week against Sunderland.

The Opposition: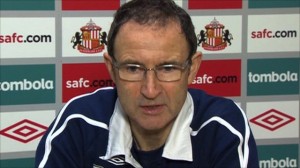 Martin O'Neill continues to have a galvanizing effect on the Wearsiders since his December appointment, leading his new side to impressive victories over Manchester City, Swansea and Norwich during his brief tenure. Each of their contests with big teams have been won by a one-goal margin – with Sunderland narrowly losing to Tottenham, Chelsea and Arsenal, but becoming one of only 3 Premier League sides to beat leaders City this season.
O'Neill has persisted with the 4-4-1-1 system already in place on his arrival at the club, but has overseen the emergence of exciting Irish left winger James McClean, who has scored 3 goals in his 9 starts. Crucially top scorer Stéphane Sessegnon and midfield hard-man Lee Cattermole are suspended after their indiscretions during a tense draw with Newcastle in the Tyne-Wear derby, meaning Craig Gardner is likely to support ex-Arsenal forward Nicklas Bendtner, while David Vaughan or possibly David Meyler will take Cattermole's place in midfield.
While shorn of two of their better players, Sunderland still carry plenty of threat, particularly in the form of Bendtner and fellow Scandinavian Sebastian Larsson, who scored in the opening clash of the season against Liverpool in the first of our many frustrating home draws. A much stronger proposition at the Stadium of Light, Sunderland will look to bounce back from conceding a late goal against Newcastle and being wiped fairly convincingly by Uncle Woy's West Bwom in their previous league hitouts.
The Mighty Redmen: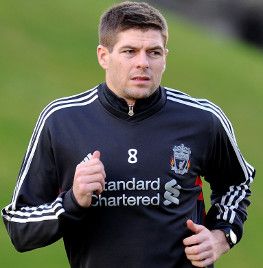 Liverpool captain Steven Gerrard, and stylish fullback Glen Johnson have both returned to full training after being rested for the Arsenal match. As long as they're fit, both are likely to start – if indeed there is any will left to chase the Champions League dream.
Squad selection will be interesting this time out. With Jamie Carragher possibly at fault for both of Robin Van Persie's goals on Saturday, and with first choice defender Daniel Agger still 3 weeks away from returning from a rib injury, the argument to start Uruguayan man-mountain Sebastian Coates is fairly strong. A phenomenon in Uruguay's Copa America victory last year, Coates has spent much of this season bedding in at Liverpool and adapting to the change in style and surroundings. While he's had the odd nervous moment (fully fitting of a 20 year old player) Coates has also displayed excellent positional sense, anticipation and is a formidable physical presence at both ends of the field. If he's good enough, we should play him, particularly with one eye towards regular match time next season.
Also interesting is the fact that precocious winger Raheem Sterling warmed up with the senior squad ahead of the Arsenal clash – good experience for an exciting, talented youngster, who by all accounts destroyed Everton first team fullback Seamus Coleman in a reserves fixture in midweek, and seems ready for a substitute appearance at some stage in the very near future.
The Tip:
A weakened opponent? Some good football from us in our last match? This sounds like a recipe for post-thumping, pen-scuffing, infuriating madness – which we've all become far too accustomed to this season. While I think a win is quite likely, our shooting boots (the ones that make the ball go IN the net) need to be tightly laced, and Gerrard must take any penalty kicks we win. He's missed his quota for the season at Wembley, and the next 3 or 4 will all go in. Probably.
This match will set our expectations for the rest of the season – are we desperately chasing the pack for Champions League qualification? Or are we going to blood a few young players in preparation for another crack at the big time next season?
Let's hope Black Cats can bring us luck this weekend, no matter what our long-term future holds.
-Grubb-