Jackson Martínez: Goal Scoring Analysis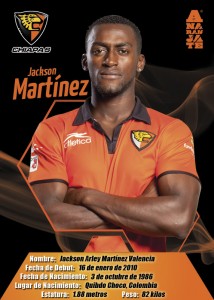 (Disclaimer: This is a very long post, about a player who we possibly may never sign. If you have something more important to do with your life, do it now. If you want to find out more about potential LFC target Jackson Martínez, please read on.)
This, ladies and gentlemen, is Jaguares de Chiapas striker Jackson Martínez. A current Colombian international, captain of his Mexican Primera División side, and the second highest goal scorer in Jaguares' history, Martínez' stock is rising in world football, thanks mainly for his ability to score goals.
It is not the number of goals as much as it is the manner of scoring that I find particularly impressive – although he has scored an incredible number of goals, both with Jaguares and Colombian club side Deportiva Independiente Medellín, with whom he won a title in 2009.
And on top of his abundantly evident goal threat, Martínez carries something of an interest in LFC. Twice in the last 6 months he has publicly commented that Liverpool is an interesting option for him, but pausing to add earlier this month that there's "still nothing concrete". The mere fact he's talking about us suggests he's open to a move, but is he good enough for Liverpool? Would he improve our stuttering form in front of goal that has cost us so dearly in our current league campaign?
South American football expert Tim Vickery recently commented on Martínez, describing him as an "out-and-out goalscorer, a front-to-goal centre-forward who can finish off both feet, and with excellent spring that makes him a threat in the air."
While Vickery noted concerns about Martínez' touch, in the current technical context of Kuyt and Carroll, Martínez comes off looking like Messi, and he offers far more with the ball at his feet than our current crop of forwards can muster – obviously excepting Luis Suarez' creative genius.
Some Basic Statistics:


This year (2011/12 Apertura and Clausura) Martínez has been shooting at around 57.4%, more accurately than any of the top strikers in the Premier League. And his shots-to-goals ratio is also comparable to some of the Premier League's best forwards, with Martínez taking 5 shots for each goal scored, making him as efficient in front of goal as Wayne Rooney and Sergio Aguero. Red-hot forward Robin Van Persie is scoring once in every 4 shots – only marginally better than our big Colombian friend.
Indeed, as Liverpool fan and info-hobbyist Dan Kennett suggested in a recent article on Luis Suarez, our Uruguayan playmaker needed an average of 8 shots to score even in the comparatively "easy" Eredivisie, his best season only seeing his conversion rate hit 1:6.
Even Robin Van Persie has a lifetime ratio at Arsenal of a goal from every 6.5 shots, while Rooney has historically taken 7.5 shots for every goal (again from Dan's Suarez masterpiece). This means that within his context, Martínez is scoring like a top, top striker.
Martínez takes 3.6 shots per game, slightly more than Sergio Aguero or Demba Ba. His current scoring ratio is 0.73 goals per game, far better than the magic 1 in 2 benchmark used to judge strikers. If that form successfully translated to the Premier League, he'd only be trailing Van Persie and Rooney in the goal-scoring charts, and projected over 38 league games, he could potentially score 28 goals – a phenomenal amount.
But the Mexican Primera is not the English Premier League – any comparisons need to be treated with caution. Not only is the style of football different, they exist on different stratospheres of the footballing universe, the Mexican league considered a creditable 12th strongest domestic competition in world football, but the PL arguably the best or second best, depending on what your views on La Liga are. It is clear Martínez would need to step his game up if he was to join Liverpool and become the antidote to our finishing woes.
A few key measurements I've collected, suggest he very well could.
I have painstakingly watched every video I can find of Jackson Martínez doing what he does best: scoring goals. I have analysed each finish, documenting the foot he scores with (except for headers, obviously) the shooting technique he employs, his distance from goal on shooting and what parts of the goal he shoots into. I have only documented 61 goals (he's scored around 90 professional goals between Mexico and Columbia), but feel the sample size is big enough to make reasonable assumptions from. Certainly there were common patterns that emerged in terms of types of finishes and where he places the ball into the goals.
So let's start there, with finishing zones.
Martínez' Finishing Zones:


Immediately I find myself impressed with the zones of maximum scoring. Hard and low shots into the bottom corners are difficult for goalkeepers to save, and roughly a third of Martínez' goals have gone into these two zones alone. This suggests to me intelligent shot placement. 45.2% of all of his scoring shots enter the goal in the lowest segment.
Equally noticeable is a clear trend towards the right hand side of the goal, with 43.5% of Martínez' goals coming inside the right-hand post. This is explained by the fact that Martínez is predominantly right-footed, although we'll see further down that he's far from being a one-foot-wonder.
16.1% of the goals I saw arced, spun, powered or looped into the top right hand corner – this is no fluke. Clearly Martínez knows how to hit a ball and where he is most likely to score, hence the placement into areas goalies hate – both bottom corners, and the "postage stamp" in the top right corner. The ones that makes you feel all tingly, like in this video from mid-February:

Words can't begin to describe how beautiful I think that goal is.
Shooting Range: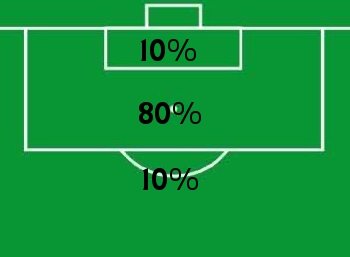 While these numbers have been loosely rounded, the general pattern is that "Big Jacko" scores from medium range, somewhere between 6 and 18 yards from goal. While not an earth-shattering, revelatory statistic, I would argue that this suggests Martínez is a good fit for Liverpool: He's regularly getting into the box and scoring!
We have enough players who shoot pointlessly from range and more than enough who don't shoot at all. What we need is someone who finds or makes space to shoot on goal from within the penalty area. Martínez has this routine down, he knows how to get into scoring range and he evidently knows where to put the ball when he's in it.
Finishing Trends:

Looking at how Martínez finishes his goals, it's clear he has plenty of ways to find the net.
21% of his goals were finished with his head – interestingly the vast majority of his headed goals were in Colombia, with his current teammates at Jaguares usually opting to play the ball low into feet. His aerial success lies with his ability to meet the ball at pace, generating plenty of power off the head. He also has that extraordinary "hangtime" quality that players like Tim Cahill exhibit, enabling him to outleap defenders.
As I mentioned before, he's no one-foot-wonder, with around a quarter of all of his goals coming from his non-preferred left foot. Even some of his long-range efforts are hit from his theoretically "weaker" foot, his characteristic power and accuracy available from both sides of his body.
Martínez is naturally right-footed, and has scored the majority of his goals (55%) this way.
In terms of types of finishing, Martínez has the full repertoire of shots.



The majority of Martínez goals are sidefooted finishes, with his placement past the keeper when 1-on-1 a regular feature. He also regularly gets into the position where he is finishing into an open goal, the keeper having been eliminated through clever movement on his behalf.
He often scores with powerful drives a la Gerrard and is confident to line up a shot from outside the penalty area when he gets space. He also has excellent volleying technique and can finish first time with either foot confidently.
14.3% of Martínez' goals have been penalties. He is a confident penalty taker and usually tucks his pens powerfully into a bottom corner. More than once though he has used a chipped finish that has lollipopped over the stranded goalkeeper – not something I personally want to see away at Old Trafford at 0-0 in the last minute of play.
General Characteristics:
Besides the statistical analysis, Martínez has plenty of physical characteristics that lend themselves well to the physicality of the Premier League. He's a big unit at 1.88m tall and 82kg, and he's strong.
He has explosive acceleration, a powerful step that allows him to create his own shooting opportunities despite tight marking. Martínez prefers to do most of his sprinting off the ball, however he can carry the ball at speed and has a functional stepover – one that actually helps him beat his man.
While Vickery questions his technique, he does have good touch for a powerful forward. While he may not have the dribbling ability of Seydou Doumbia, a comparable talent, his first touch is much stickier and he thinks quickly around the box, either shooting or moving the ball on to a teammate.
Tall, fast and strong, Martínez could dovetail well with Suarez as an explosive, high-energy forward partnership. He also has the speed and intelligence to run the channels for Andy Carroll's headed flicks. More than anything, he has an accurate, powerful, low shot that regularly threatens the goal, and he has the know-how to frequently find shooting positions.
For the rumoured price, (£8-10 million) Martínez would represent far less of a gamble than Carroll himself did. The Colombian is a captain, an international and a matured, well-rounded player. The only question is how long would it take him to adjust to the intensity and relentlessness of Premier League football? If he does, he could bring the one missing ingredient to our early season dominance, the currency that defines success in football: goals.
Verdict:
I'd personally like to see him at Liverpool. While rumours have him choosing between us and Porto, he would fit well with our style of play and contribute pace and incisiveness up front that we are currently lacking. If the budget is restricted to around £25m as is being frequently rumoured, then dropping £10m on Martínez seems a fantastic idea.
There are very few players in Europe with his kind of scoring record at that kind of price.
I hope you enjoyed this in-depth player analysis of Jackson Martínez. It took ages to research and write. Please share it via Twitter, Facebook or your preferred social Network. Cheers.
–Grubb–