Someone Told Me Long Ago (There's a Calm Before the Storm)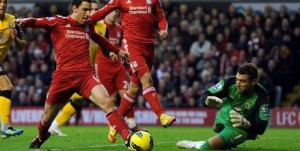 There isn't going to be too much going on this Tuesday. Sure, we're on our way to Ewood Park to face Blackburn, but I wouldn't expect a whole lot. Blackburn are coming off three losses, Liverpool haven't won in four, and neither side has done anything of note in front of net in quite some time. A flat 1-1 draw at the end of December saw Maxi Rodriguez cancel out a Charlie Adam own goal as the story of the season, chances but no conversion, was hitting the halfway mark. Both Blackburn boss Steve Kean and Liverpool gaffer Kenny Dalglish have come in for criticism from all quarters for their under performing sides, and if we're going to base this match off either of their previous ones, a dramatic turn around won't be coming anytime soon.
Relegation threatened Blackburn was stomped 3-0 by West Bromwich Albion and Liverpool, continuing to under-perform against the weaker sides, were held to yet another home draw when Aston Villa held on for a precious point at Anfield. The Reds have developed a disturbing habit of shutting down after going behind, and although there's little danger of Blackburn taking the lead, getting an early goal through the likes of Yakubu and then hanging on for dear life will be their best chance of snatching up the points.
While we may have looked pathetic after conceding, Liverpool came back to life near the end of the second half with both Jonjo Shelvey and Jordan Henderson putting in outstanding performances. The inclusion of the youngsters continues to be divisive among sections of the Red mobs, but there are a number of ways to look at things. Their long passing in particular came in handy and even though they were criticized for "playing it safe", retaining possession while still moving the ball are both essential factors in the pass and move style we're always trying to live up to.

With an eye to the weekend and the FA Cup semi-final against Everton, this could be a perfect opportunity for some of the fringe players to get a run out. Pepe Reina is still suspended, so Alexander Doni is nailed on to start. Luis Suarez and Steven Gerrard should both be rested, and Andy Carroll could move into the frame for a starting place against a weak Blackburn defense. Rovers have conceded 67 times this year and their porous backline looked particularly susceptible on corners and free kicks. The big man has been less than prolific since his much criticized move from Newcastle, but this could be a excellent opportunity to show what he's made of.
If anything, we should look to avoid and injuries of suspensions ahead of the weekend match. The side grew in confidence by leaps and bounds with Daniel Agger making a brief, although very influential, cameo last time out. It's unlikely that the Dane will be ready for a starting place on Tuesday, but another short run out could see him ready for the weekend. The Reds have looked shaky at the back since Agger was injured in the Carling Cup final, and the shouts for the inclusion of Sebastian Coates over the waning Jamie Carragher have grown louder. If Dalglish does play squad players, Coates has to be included.
There's only pride left for to play for, but Steve Kean will look to get whatever he can to stave off the drop. We may not be expecting too much from this match, but I still hope we don't give him anything at all. Lowered expectations are one thing and there's a thin line between being a supporter and being realistic; I know where I draw my line and it's right here.
GET IN.
-steven.
We're on Facebook and Twitter. Peep that holmes.