If You're Having 'keeper Problems, I Feel Bad For You Son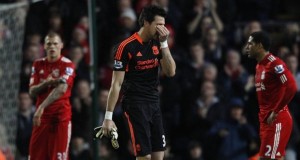 There's being wrong, and then there's being really wrong. I might have thought there wouldn't be much on at Ewood Park on Tuesday night, but I missed the mark by a long shot. A quickfire brace from Maxi Rodriguez set Liverpool up for a cakewake before Alexander Doni was shown a straight red card for a mistimed, ill-advised foul on Junior Hoilett. Third choice goalkeeper Brad Jones would save a Yakubu penalty, only to have the former Everton striker score from a well placed header less than 10 minutes later. Enough drama? That was only the first half…
After the Reds drew at home to Aston Villa and relegation threatened Blackburn were stomped by a side managed by Roy Hodgson, hopes that this match would be even close to entertaining weren't high at all. That theory went to pot in the 13th minute when Skrtel of all people played what a Xabi Alonso-esque pass from his own penalty area to an onrushing Bellamy already over the halfway line. A simple square ball across the face of goal found Maxi Rodriguez for a easy as you will finish. Three minutes later, it would be the Argentine on the scoresheet once again after some good defensive pressure from Jonjo Shelvey allowed the winger another poached finish.
Our woes in front of goal have been well documented, but with a 2-0 lead less than twenty minutes into the match against Rovers, it was surely time to call it a night and start writing. I made that mistake when we made a hash of the perfect lead against QPR, and it looked like the same story was about to play out. Alexander Doni would always be a gigantic question mark going into a FA Cup semi-final, but we no longer have to ask that question.
John Flanagan looked shaky all night and was lucky to avoid a second yellow card for a reckless challenge which would have seen us reduced to ten men. While the youngster may not have been sent off, he played a pivotal role in the straight red card picked up by Doni when his back pass fell horribly short of the mark. With Junior Hoilett rushing in on goal, the Brazilian 'stopper upended him with a sloppy looking slide. There would be only one result from that. An early shower would follow and with the backup to the backup ready to go, Yakubu stepped up to the spot.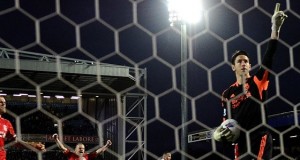 I can't say I expected Brad to make the save, but barring the England national team, that may have been the worst penalty to grace a football pitch since David Beckham shot the moon against Portugal. Yakubu would atone for his mistake less than 10 minutes later from an unmarked header to bring the home side back into the frame and another shot at the spot would be coming up soon.
With the Reds reduced to 10 men and protecting a precarious lead, proceedings were bound to take a turn for a worse. It's been said time and again that we're unable to do things the easy way and that theory would prove itself true when Jones, hero in the first half, conceded another penalty with a panic push on Yakubu after the Australian dawdled before his attempted clearance was by the airborne striker. The resulting equalizer from the spot would be a blessing of sorts as the 'keeper was only shown a yellow card for his indiscretion, keeping him in the frame for a trip to Wembley.
As fatigue began to set in, Blackburn were enjoying the run of play as pressure was heaped on the visitors. Andy Carroll, who missed a gilt-edged chance to put the Reds ahead with a diving header earlier in the half, almost scored at the wrong end of the pitch when he back-header dipped towards Jones who was thankfully alert enough to make the save. The £35 million man was looking like he was going to have another wretched night until a minute into injury time, he latched onto a Daniel Agger header to wrap up the points for the team that's waited for too long for him to prove his worth.
The standard late attacking flurry from the Reds would close out the match, and just as you were about to leave early to avoid the disappointment of another draw, Andy made it all worth it. Blackburn cleared from a corner, but were too slow getting out of their own box when Sebastián Coates, finally getting the nod ahead of Jamie Carragher, pumped the ball back up field. The big Dane was instrumental in Suarez's equalizer against Aston Villa, and it would be him once again who would play provider when he thumped a header across the face of goal for Carroll to attack.
There would be no excuses, no silly mistakes or inexplicable tirades aimed at the ref this time; only the type of finish we expected after shelling out an inexorbinant amount of money all those months ago. We've missed this kind of fight, this kind of resolve and although the three points change very little, it feels good to smile again. One well taken header won't undo all that time we waited for it, but it's nice to finally see the big man make his presence known and set us up for what's sure to be a cracking semi-final at Wembley this weekend.
–steven.
Social media and drinking? Profanity and fat fingered nonsense? You know where to find us…