When That Result Was Unexpected, You're Aiming Too Low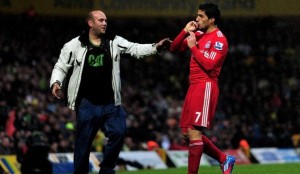 Despite Jonjo Shelvey hitting the bar and missing a sitter, we still won. That's right; three points on the road and a Luis Suarez hat trick to round off the night. It was a bit surreal to be honest, and I'll be the first to admit that I didn't see it coming. Not from a country mile away. The pundits might say it was three defensive errors and three Liverpool goals, but contrary to what they may think, I'm going to have to take a different view: it was the magic of Suarez. Let's face the cold hard facts here: a 45+ yard lob over the 'keeper isn't a defensive error. That, my friends, is some serious skill on display.
When Liverpool square up to Norwich, you'd expect nothing less than a win based on mere history itself. A Liverpool managed by Kenny Dalglish and facing a newly promoted Norwich gives you an even better line on taking home the three points; but had the season started January 1st, the Reds would be looking quite a ways up the table to find the the Canaries. All the way from second to last to be precise as the Merseyside outfit continue to struggle for points. It's a welcome change to say that closing down the Canaries hardly resembled a struggle or even anything struggle related.
We were a tad bit listless up until the opener — not so much failing to assert ourselves on a match that looked ready for the taking, just going through the motions on a rainy day in East Anglia. Then, Suarez lit it up after the Captain caught David Fox dawdling on the ball. The rising, curling shot of the Uraguyan looked destined for the post before hitting the back of the net and sending that unfamiliar, yet oh so satisfying, tingle down your spine a bathing the pitch in some metaphorical sunshine.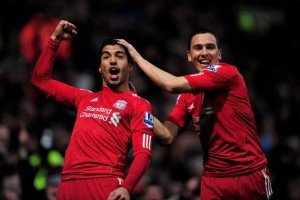 We've seen this all before though. This season, going one goal up is never quite enough until only four minutes later, it would be Suarez doing the business at hand once again. Much like in the FA Cup semi-final, a bad backpass would allow the forward to slip past Elliot Ward, who had no chance of catching the pacey little man after a deft touch wrong footed him, and slot home a low drive across the slick surface. Two goals? If you remember the reversal at Loftus Road, a brace wouldn't be quite enough to settle the nerves.
We all knew it was going to take three and, unsurprisingly, it would Suarez who would deliver. Norwich looked threatening for all of five minutes after the restart, but when Jonjo Shelvey hit the crossbar, and only moments later failed to tuck the ball away with the goal gaping, you got the feeling that even though we were ahead by two, that it was going to be one of those days. Thankfully, that was wasn't to be. Jonjo may not have gotten his first Premier League goal, but Luis would get his first Liverpool hat-trick with an audacious 45+ yard lob over an extremely unlucky John Ruddy.
A rare Norwich foray deep into our end left Glen Johnson to clean up near the byline and his clearance-cum-pass found Suarez who once again displayed a miraculous first touch to beat his marker. Off-screen, for those of us watching at home, Ruddy had ventured a fair ways up the pitch and instead of having the Uruguayan bear down on him full steam ahead, he got to watch the ball sail gracefully over his head as he frantically back-peddled. Needless to say, it wouldn't be enough as the press scrambled together comparisons to Xabi Alonso's long range strikes whilst wearing the Red of Liverpool.
A 3-0 win is the perfect response coming off a depressing reversal the weekend before and with the Cup final looming large only a week away, split up by the visit of Fulham on Tuesday night of course, there is no better time for Kenny's men, and Suarez in particular, to gain a bit of confidence. We should be going to Carrow Road and expecting to come away with a win. It's obvious that Chelsea won't be playing down to the standards of the Canaries next weekend, but if Suarez plays up to his, we might be able to go to Wembley expecting a win as well.
-steven.