Two Different Hat Tricks, Two Different Feelings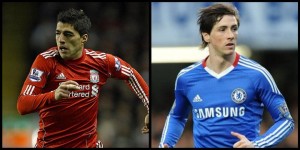 Now, there's a sense of foreboding before the FA Cup final this Saturday that wasn't quite there before. Neither Luis Suarez nor Fernando Torres have had a season full of success in front of the net. Both have yet to light up the Premier League with the kind of form they achieved with their former clubs; the Spaniard has scored a measly six goals while El Pistolero has seen only eleven cross the line. That was then and this is now. The last 48 hours have seen both strikers score spectacular hat tricks ahead of the big show this weekend. Liverpool fans were left in raptures when Suarez scored from over 45 yards out to round out a 3-0 win over Norwich; Chelsea fans finally got to celebrate signing Fernando Torres.
If it had been a month ago, I would have had a serious grin pasted across my ugly mug had Chelsea caretaker boss Roberto Di Matteo decided to start with Fernando Torres up front at Wembley. All the jokes about the Blues starting a man down or having no one in the box have been nullified and I get to throw out a notebook and half full of Torres jokes. He may not be back with the swagger of his years on Merseyside, but scoring the winner against Barcelona at the Nou Camp to send Chelsea to the Champions League final has restored the kind of fragile confidence a striker of Torre's caliber needs to go on and pay back some of that £50mil fee Roman Abromovich shelled out last January.
The goal that sealed his hat-trick in particular stands out as vintage Torres. Hampered by knee and ligament injuries, the step or three he's lost off his once blistering pace was left a question mark over his head during even his last season at Anfield. Would he ever be the player he was before? That still remains to be seen, but the inch perfect through ball from Juan Mata from the center circle saw Torres latch on and roll back the years with a fine side-foot finish past a diving Paddy Kenny. Lining up the the exact angle with ease, the weight of the shot and that familiar toothy grin — it was all there and eerily familiar.
While Chelsea fans will be feel confident rolling in to Wembley as favorites, El Pistolero finally finding a way to avoid the woodwork could put a dent in their perfect fantasy final. Though that works the same on both sides and an in form Torres could spend Saturday twisting the knife into the formerly adoring Kop, still a bit tender around the heart strings after the golden boy walked out on them.
Fernando left to win trophies and the perfect way to finally put him behind us would be to win one against the side he left us for and throw back his reason for leaving square in his face. Suarez could be the key to doing just that. Signed to partner Torres in attack, the man from Montevideo became his replacement after the Spaniard pulled up roots and left for London. With an mind boggling tally of 111 goals in only 159 appearances for Eredivisie giants Ajax, the fiery striker was attracting attention all over Europe, and now, we had him wearing the Number 7 shirt.
This season has been an odd one for everyone involved and Suarez hasn't been the exception to the rule. A total of nine matches on the sidelines due to suspension, a misfiring team surrounding him and the woodwork keeping his goal tally down, El Pistolero became more of a creator and less of a striker. Those of us who watch him week in and week out were even starting to question which role he should be playing in until Steven Gerrard, the old foil for Fernando Torres, showed the kind of understanding with the Uruguayan that drew plaudits the world over during the former Number 9's time at Anfield. The Captain robbed a player blind and without even looking, played an exact side-footed pass to Suarez who finished with the kind of ease we haven't seen in months.
So, ahead of the FA's showpiece final, we have two strikers with a hat trick a piece. Liverpool will line up against Fulham on Tuesday and Chelsea square off against Newcastle on Wednesday. Either way, it will be nothing but a distraction. A win for Torres will in some way vindicate him, finally lifting that trophy that eluded him all these years. A win for Suarez would only rub salt in the scrapes of a torrid time in London and prove that Liverpool made the right decision by letting the Spaniard go.
-steven.
We're on the Facebook and the Twitter. Send us a tweet or give us a like.